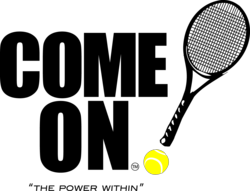 We are extremely pleased to sign a clothing sponsor partner like Come On! Apparel
Grapevine, TX (PRWEB) May 09, 2012
The 2012 Texas Tennis Open, which will feature many of today's top WTA professional tennis stars, announced today that Come On! Apparel has signed on to be the official clothing sponsor for the ball kids and tournament officials.
The 2nd annual Texas Tennis Open, which is part of the WTA, is an 'International Level' tournament with prize money of $220,000, and features a singles draw of 32 players and a doubles draw of 16 teams. The tournament, which will play host to an international field of players, will take place August 17 through August 24, 2012 at the Hilton DFW Lakes Hotel in Grapevine, Texas.
"We are extremely pleased to sign a clothing sponsor partner like Come On! Apparel, "said Chris Giordano, Texas Tennis Open Tournament Director. "The Come On! brand is clearly a great fit with our event and we look forward to outfitting the ball kids and tournament officials with this progressive tennis apparel line."
Come On! was also the official clothing of the ball kids at the 2012 ATP Delray Beach International Championships. Founded in 2011, the Come On! brand was developed based on the sports phrase yelled by many athletes to motivate themselves while on the court or the field.
"We are so pleased to be a part of such a great new event on the WTA tour," said Janey Ellis, Founder of Come On!. "This event has immediately made a name for itself with its outstanding field of players in the first year and we look forward to our clothing partnership in 2012."
In 2011, the Texas Tennis Open saw 10 of the top 50 players in the world travel to Dallas for the inaugural event. The eventual championship match pitted Wimbledon Semifinalist, Sabine Lisicki against year-end top 20 player, Aravane Rezai. Lisicki defeated Rezai in the final 6-2, 6-1 and finished the year for the first time in the top 15.
About the Texas Tennis Open
The 2012 Texas Tennis Open, an International level Women's Tennis Association (WTA) event offering $220,000 in prize money, will feature a 32-player singles draw and a 16-team doubles draw in 2011. The 2nd annual event will be held one week prior to the prestigious US Open, and will feature an outstanding field of international players ranked in the top 75 in the world. For more information about the Texas Tennis Open go to the tournament's website at TexasTennisOpen.com or follow the tournament on Twitter or Facebook.
About Come On!
Come On! "the power within" is apparel for players and fans passionate for their sport of a lifetime. The product line includes T-shirts, hats, Dry-Fit performance shirts and towels. The company has trademarked the catchy phrase Come On! "the power within" and distributes its products to teams, individual athletes, clubs, schools and retail stores. For more information visit the company's website at ComeOnApparel.com.