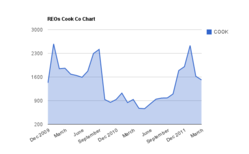 Time to BUY
Chicago, IL (PRWEB) May 11, 2012
New foreclosures filed in the Chicago area during March rose slightly compared with a month earlier, according to figures compiled by the Illinois Foreclosure Listing Service(ILFLS). New foreclosure filings in the seven-county area tracked by ILFLS totaled 6442 in February, compared with 6168 in February and 7201 in March 2011. Completed foreclosures — those selling at auction or reverting back to lenders — increased to 2,914 in March from 2,890 in February and 1,791 in March 2011. This totals just a slight, less than 1%, increase from February to March 2012 – but a large nearly 40% increase in sales. There was also a substantial increase of 22.93 percent in the number of properties sold to investors in March compared to last month activity, and over a 50 percent increase compared to 2011 year.
As could easily be foreseen, the majority of the foreclosure activity was due to the REOs — over 90 percent of the completed foreclosures. On the other hand, there was also a notable nearly 23 percent increase in the investor activity this month. Increased investor confidence is evident in these numbers. More foreclosure activity and increased REOs allude to many possibilities: These stats bring good news and opportunities for investors, buyers, and real estate agents as well - Increasing foreclosure activity is slowly pushing the foreclosure inventory higher. Because of this, prices and affordability will likely remain low buyers and investors will be able to locate bargains.
Overall, new REO properties stayed pretty steady, with a decrease of .86 percent to 2,662 in March compared with 2,685 REOs in February. The March 2012 REOs have significantly increased over the past year with 37.3 percent compared with 1,670 REOs in March 2011. Properties sold at auction decreased 9.05 percent to 5,138 in January 2012 compared with 5,649 in December.
As expected, the number of new filings continued to increase in most of the Chicagoland area counties according to ILFLS data. In Kendall County, there was a small decline of 3.91 percent compared to February. Each of the other 6 counties increased. The highest increase of 19.38 percent was seen in McHenry County with a total of 308 new home foreclosures compared to 258 in February.
The overall foreclosure totals were down overall nationwide during 2011. The low totals, however, are artificially low on account of several factors. There were numerous foreclosure processing delays in 2011 including legal issues, an abundance of backed up files in the courts (particularly in Cook County), and various other legal issues which complicate the foreclosure process. These factors will likely account for a greater number of lenders who are willing to approve short sales with ease. Many of the homes that began the foreclosure process in the fourth quarter of 2012 became bank owned properties in this first quarter of 2012; many also resulted in short sales.
The Illinois Foreclosure Listing Service (ILFLS) is a Chicago-based subscription service that provides up-to-date data on foreclosure filings and related activities throughout the Chicago area, including Cook, DuPage, Lake, Will, McHenry, Kane and Kendall Counties. ILFLS recorders are assigned to every courthouse in the coverage area, which they visit daily to collect the latest data. ILFLS provides a searchable database and a broad array of productivity tools, all designed by and intended primarily for real estate professionals.