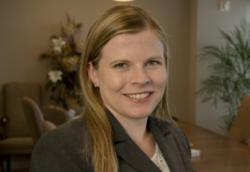 She has truly become a model for up-and-coming Haynes and Boone attorneys, and it is particularly gratifying that an outside organization like the Texas Young Lawyers Association would see her the same way.
Fort Worth, TX (PRWEB) May 09, 2012
Karen Denney, a partner in the Labor and Employment Practice Group at Haynes and Boone, LLP, has been named the 2012 Outstanding Young Lawyer of Texas by the Texas Young Lawyers Association (TYLA).
The prestigious honor was given for her commitment to and leadership in pro bono work, as well as for her service to the local bar and involvement in the community. Denney received word of the Texas award at the Tarrant County Bar Association Law Day Dinner, where she was honored as 2012 Outstanding Young Lawyer of Tarrant County by the Fort Worth-Tarrant County Young Lawyers Association.
The statewide award will be presented at the TYLA Annual Meeting held in conjunction with the State Bar of Texas Annual Meeting in Houston on June 15. Denney will then be entered into a national competition against winners from other states.
"We are so proud that Karen has been recognized for this exceptional statewide honor," said Haynes and Boone Managing Partner Terry Conner. "We have come to know her inside the firm as a tireless advocate for clients, but she is just as committed in her pro bono and community service activities. She has truly become a model for up-and-coming Haynes and Boone attorneys, and it is particularly gratifying that an outside organization like the Texas Young Lawyers Association would see her the same way."
Added Melissa Goodman, chair of the firm's Labor and Employment Practice: "This award is well-deserved. I believe Karen embodies what we want in the profession. She works very hard day after day, she is committed to the firm, her practice, charitable work and her family. And she does it all with a great teamwork attitude. We congratulate her on this tremendous honor."
Recently, Denney led a Haynes and Boone team that, along with American Airlines, was honored by Legal Aid of NorthWest Texas (LANWT) as the 2011 Outstanding Law Firm of the Year Award for its collaborative work to take pro bono cases and provide quality civil legal representation to deserving low income clients. In addition to representing clients referred from LANWT, in 2011, Denney also coordinated with American Airlines to have a training session provided concerning asylum law, which, to date, has resulted in Haynes and Boone, LLP and American Airlines jointly accepting two pro bono asylum cases – one of which Denney is working on – and Haynes and Boone, LLP accepting an additional pro bono asylum case.
She also served on the Fort Worth Steering Committee for the Texas Minority Counsel Program in 2011, has served as a volunteer judge for the American Bar Association Labor and Employment Section Mock Trial Competition for two years, is currently a co-chair of the Tarrant County Volunteer Attorney Services Committee, and currently serves as a mentor to a newly-licensed attorney through the TCBA's Transition to Practice Program.
In addition to her many pro bono activities, Denney has served, and continues to serve, the community in a variety of other ways. Since 2005, she has been a member of the board of directors of Clayton Youth Enrichment Services ("Clayton YES!"), a non-profit entity that provides before and after school child enrichment programs at elementary and middle school students in Tarrant County. She has also served as secretary, chaired and participated on numerous committees, and provided pro bono legal services for Clayton YES! throughout her eight years on the board.
Another non-profit on which Denney serves on the board of directors is Casa Mañana, Inc. ("Casa"). Casa is a non-profit entity that produces children's and Broadway theatre and provides children's theatrical education classes, including classes in socio-economic disadvantaged schools that do not have theatre programs.
In 2012, she also joined the board of directors of The Parenting Center, a non-profit entity that provides parenting and other classes and child, parental and family counseling in an effort to end child abuse in Tarrant County and build stronger families. In addition to serving on the board, Denney is also a member of the Client Services Committee, auditing and working to improve the services The Parenting Center provides to Tarrant County families.
Denney was a member of the 2010-2011 Leadership Fort Worth class, and since graduating from the Leadership Fort Worth program, she has continued to be involved with Leadership Fort Worth, serving as a facilitator at the 2011-2012 Leadership Fort Worth Opening Retreat, acting as a mentor for a group of class members working to bring attention to the high infant mortality rate in Tarrant County, and helping plan a class day focused on educating the class members about homelessness and hunger in Tarrant County.
At Haynes and Boone, Denney represents clients in employment litigation and arbitration matters involving a variety of claims, including claims involving age, sex, race, national origin, disability, the Family Medical Leave Act, the Fair Labor Standards Act, retaliation, misappropriation, gross negligence, breach of contract, defamation, tortious interference, covenants not to compete and other employment laws and related torts.
Denney was selected for inclusion in Texas Super Lawyers - Rising Stars Edition in 2006, and again in 2008-2012. In addition, she has been chosen by her peers as one of Fort Worth's 'Top Attorneys' in Labor and Employment in Fort Worth, Texas magazine the past three years.
Denney and her husband, Paul, live in Fort Worth with their two daughters, Norah Evelyn and Lila Alene.