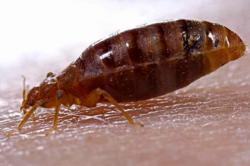 Chemical-based bed bug spray can cause more problems than help.
Cincinnati, OH (PRWEB) May 11, 2012
A report dated May 5 from clickondetroit.com said that a bed bug treatment caused a harmful fume incident in a Garden City apartment in Michigan. It was said that hazmat crews were called in to get the situation resolved. On the other hand, knowing that chemical-based bed bug sprays could cause such and other problems, BedBugBully.com advised the public to always make careful bed bug solution choices.
Reportedly, the incident happened in Village Lake Apartments. The report said that one resident sprayed to kill bed bugs. However, entering the apartment before the three hours waiting time is up, the bed bug affected room occupant caused a havoc in the apartment complex.
According to the report, with fumes leaking into the hallway, several residents suffered from breathing problems. It added that one was even hospitalized because of it. In all, based on the report, about a dozen family were affected by the incident.
Here's a part of a post Bed Bug Treatment Went Awry, Caused Breathing Problems created by BedBugBully.com.
"When you see bed bugs, what do you do? Of course, you get rid of them, right? Well, a resident of Garden City Apartment in Michigan did just that. However, because of impatience, the plotted killing of the pests turned into a smelly incident.
"On Saturday, the said resident sprayed for bed bugs in the affected apartment. It was supposed to be emptied and closed for three hours for safety purposes. Before the time is up though, the occupant entered the room and off came the fumes."
Read more about Bed Bug Treatment Brought Breathing Problems to Apartment Residents at: http://www.bedbugbully.com/bed-bug-treatment-turned-bad-caused-gas-break-out/
Chemical-based bed bug spray can cause more problems than help. As said by BedBugBully.com, the fume incident in Village Like Apartments can also happen anywhere if a chemical solution is used to solve a bed bug situation. And so, apart from advising the public to make careful choices, the website also made a direct suggestion of picking a safe bed bug spray.
According to the site, although bed bugs were not known to cause serious illnesses, they still cause problems. And for that, elimination must follow their sighting, added the site. However, for a treatment that does not cause health problems, the website suggested that one must pick a proven safe bed bug spray. Among others, it suggested the use of Bed Bug Bully.
See how Bed Bug Bully works. Get a complimentary sample of it today.