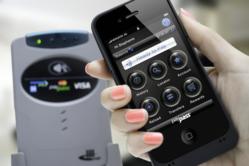 moneto is proof that if an NFC technology company can launch its own mobile wallet, then it can be issued by a variety of institutions effortlessly. In a mobile centric market, mobile payments are a vital piece of any companies mobile strategy.
San Francisco, CA (PRWEB) May 09, 2012
DeviceFidelity, Inc. the world leader in contactless plug and play technologies today announced that it will be presenting its white label mobile wallet platform, moneto, at FinovateSpring 2012 on May 9th, in San Francisco. This is the first time DeviceFidelity is participating and presenting at Finovate. FinovateSpring is a highly anticipated showcase of innovated financial and banking technology innovations from leading companies and hot new startups.
DeviceFidelity's globally renowned In2Pay® microSD and iCaisse near field communication solutions continue to be a first choice for the deployment of NFC based mobile payment service by financial institutions. The latest product offering, moneto, is a white label mobile wallet solution that can be deployed across any carrier, and any device through any institution. The mobile wallet seamlessly enables consumers to use their mobile device to make everyday in-store purchases anywhere NFC based payment methods are accepted.
Growing in popularity as a multi-functional mobile wallet, moneto has been the solution to the increasing demand for plug and play NFC support on devices that consumers prefer to carry such as the iPhone and high end Android devices. DeviceFidelity's innovative consumer centric approach to the mobile payment space is a highlight at FinovateSpring, as it demonstrates the ability to easily deploy mobile contactless solutions that are robust and valuable to the everyday consumer on their current mobile device.
"DeviceFidelity is dedicated to the bring NFC to the thousands of financial institutions and consumers who value convenience, enhanced security and cash back rewards. moneto is built with the aim of simplicity and is the only solution that can be issued by a variety of institutions effortlessly without losing control on their consumers. In a mobile centric market, mobile payments are a vital piece of any companies mobile strategy," said Youri Bebic, General Manger, NFC Prepaid Services. "We are excited to showcase our mobile wallet solution and demonstrate our continued efforts in innovation with such a multi-faceted product."
About DeviceFidelity:
DeviceFidelity, Inc. develops plug-and-play technologies that empower a variety of institutions to deploy their services and applications on millions of mobile phones worldwide. Its patented In2Pay® microSD and In2Pay iCaisse solution transform popular mobile phones into an interactive contactless transaction device. Committed to bringing contactless innovation to the mobile phone, the company launched moneto, the world's first multi-platform mobile wallet in the US. DeviceFidelity is a private corporation with headquarters in Richardson, Texas and offices in San Mateo, California, New York and London. For more information visit http://www.devicefidelity.com, follow us on Twitter @devicefidelity and at facebook.com/DeviceFidelity. For more information on moneto visit http://www.moneto.me or on Twitter @moneto_me an Facebook at Facebook.com/monetome.
About FinovateSpring:
FinovateSpring is a demo-based conference for innovative startups and established companies in the fields of banking and financial technology. Held in San Francisco, the event offers an insight-packed glimpse of the future of money via a fast-paced, intimate and unique format. FinovateSpring is organized by The Finovate Group. For more information on the event or to view videos of previous demos, please visit http://www.finovate.com/spring2012.