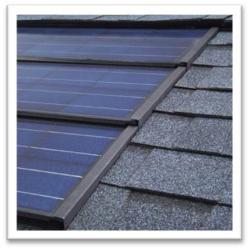 Oliver's experience and expertise is a great fit for BIPV Inc.
Grass Valley, CA (PRWEB) May 09, 2012
BIPV Inc., a manufacturer of roof-integrated solar shingles and tiles, is proud to announce the appointment of Oliver Koehler as Vice President of Sales and Marketing, where he will lead BIPV Inc.'s growing Sales and Marketing efforts.
"We are pleased to appoint Oliver to the position of VP of Sales and Marketing," said Ron Gangemi, BIPV Inc.'s founder and CEO. "Oliver's experience and expertise is a great fit for BIPV Inc. His experience with industry leaders such as SunPower Corporation and BP Solar and his exceptional understanding of solar customers, products and manufacturing will make him a vital part of the management team as BIPV Inc. seeks to grow and make roof-integrated products widely available."
Prior to joining BIPV Inc., Oliver has spent 6 years working as a Sr. Product Manager at SunPower Corporation, where he managed SunPower's global portfolio of solar modules and regularly interfaced with sales, marketing, research and development and operations to help bring high efficiency modules to market. Prior to working at SunPower, Oliver spent 5 years working at BP Solar in sales, marketing and product management capacities. Earlier in his career he worked as a senior consultant at Deloitte & Touche LLP and as an officer in the United States Army.
Oliver has joined BIPV Inc. as of April, 2012 and will be based in BIPV Inc.'s East Coast office located in Larchmont, New York.
About BIPV Inc.
BIPV Inc. designs and manufactures high quality and cost-effective building integrated photovoltaic roofing systems for residential and commercial applications. Founded in 2009, BIPV Inc. is dedicated to providing products to the solar market which generate clean electricity at a similar cost to conventional approaches without compromising the design of the home or commercial building . For more information on BIPV, Inc., please visit bipvinc.com or contact Deborah Lewis (530) 272-1703.