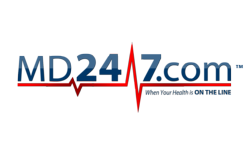 Visit MD247 on Facebook at http://www.facebook.com/md247dotcom.
St. Petersburg Florida (PRWEB) May 08, 2012
According to telemedicine provider MD247 47 million U.S. residents are without healthcare coverage; of that number 8.7 million are under the age of eighteen. That is roughly the equivalent to the entire combined populations of Florida, New York, Minnesota and Iowa having zero preventative healthcare coverage. Considering the population density of cities like New York City at 8 million residents, or the relative perceived age of Floridians, the idea of the introduction of a virulent winter illness to the mix brings to mind a viral apocalypse. There is the potential for entire cities without young children, residents over the age of sixty-five, pregnant women and those who already have a compromised immune system. Telemedicine, as provided by MD247, has the ability to act as a supplemtal or enhancing layer of protection underinsured U.S. residents.
Telemedicine provider MD247 asks if something should not be done to help enhance, or safeguard the 47 million uninsured U.S. residents from illness?
Telemedicine provider MD247 asks if it is not preferable to supplement the health defenses for the 8.7 million defenseless children?
Telemedicine provider MD247 is a telemedicine based healthcare company which provides supplemental healthcare options to entire households at the rate of $1.64 per day. No matter if a household consists of one person, a nuclear family or a mix and match/cut and paste modern family MD247 only ever charges just a $1.64 per day. The MD247.COM membership is really pennies when compared to potential time lost at work, possible impingement on quality of life and the reality that both preventative and supplemtal healthcare can and will prevent potential self-imposed germ warfare.
For the MD247.COM telemedicine membership fee of $1.64 per day, which less than the cost of a meal from a certain fast food restaurants "dollar menu," all members have access to discounted healthcare appointments; discounted vision and pharmacy discounts of up to 75%. Considering some common prescriptions have no generic equivalent, out of pocket costs without the MD247.COM supplemental pharmacy plan could exceed $100.00 for a simple inhaler. Coupled with 24 x 7 discounted access to certified registered nurses, and state licensed physicians, MD247.COM takes what could be a total $300.00(+) Urgent Care visit and turns it into a $55.00 exam and prescription . The big "win" comes for the MD247.COM member in savings, convenience and the best possible care available.
MD247.COM (MD247; MD24/7; MD/247; M.D. 247; MD 247) is a Largo Florida based telemedicine supplemental healthcare service provider. In addition to supplemental telemedicine services, MD247.COM provides discounted pharmacy programs, discounted "in person" healthcare visits and discounted veterinary services for the four-legged family members. MD247.COM can be located online at http://www.md247.com, can be contacted by email at cs(at)md247(dot)com or can be reached by telephone at 866-232-1343.