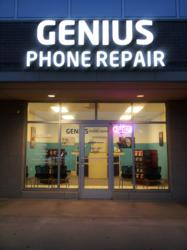 If a car breaks down, you know where to go–a mechanic. But if you accidentally break your smartphone, what do you do? Well, now you can call us.
Grand Rapids, MI (PRWEB) May 13, 2012
It started out as a favor for family and friends. Jordan Notenbaum had always had a knack for fixing things and a natural curiosity about how electronics worked. Now, having earned degrees in finance and marketing from Grand Valley State University, he had also become the go-to guy for cell phone repair, fixing any unexpectedly broken iPhones, iPods and other devices. He did such a good job for those close to him that word spread quickly about his abilities. As Notebaum began charging for his services demand only increased. So much so, that he decided to enlist the help of his friends Garry VonMyhr, and Steven Barnes. With repair orders continuing to pour in–sometimes from around the country–the three decided more space was needed and it was time to set up shop as Genius Phone Repair at 4693 Wilson Ave. in Grandville in 2011.
The shop enjoyed great success from the beginning. Now, only about nine months after opening their first shop, Genius Phone Repair has just opened a second location at Knapps Corner in Grand Rapids. The new store can be found at 2090 Celebration DR NE, Ste 109, Grand Rapids, MI 49525.
So what's driving this quick expansion? Obviously the first factor is the rapid increase in mobile device usage over the last three to five years. With the release of the Apple iPhone in 2007, both cell phones and mobile computing entered a whole new era–that of the smartphone. With the release of the Apple iPad in 2010 computing itself entered a whole new realm–that of the tablet. In both instances other manufacturers moved quickly to offer their own competing devices and even amidst the Great Recession statistics have shown that little could slow down consumers' desire to get their hands on one or more of their own. In 2011 there were 491.4 million units shipped from factories, up 61.3 percent from 2010. At Christmas 2011, sales stats showed that smartphones, tablets and e-readers were overwhelmingly at the top of everyone's gift list.
But these devices do not come cheap. A New iPad can range from $500.00 to over $800.00. Smartphones may cost a bit less but they usually involve an expensive contract with one of the major carriers. And as handy and desirable as these devices are, their very nature as handheld, pocket-friendly and mobile makes them highly susceptible to unexpected damage. "Glass screens shattered or broken from being dropped or devices that have been accidentally submerged in water are some of the most common repairs we get," says Notebaum.
Despite their success, Notebaum says many people are still not aware that cell phone repair services exist. "If a car breaks down, you know where to go–a mechanic. But if you accidentally break your smartphone, what do you do? Well, now you can call us." He adds that phone repair is an alternative to phone insurance offer by cell phone carriers. And, he said, Genius Phone Repair regularly receives customers from AT&T, Sprint and Verizon Wireless who don't like the options their carrier is offering for their broken phones. Most often carriers require customers to send in broken phones for repair, with no guarantee they can be fixed. Despite this there are charges for the service and often several weeks wait. "We can usually repair phones within a few hours," says Notebaum, "and often right in front of the customer." With many people increasingly dependent on cell phones in their daily lives - no longer as just an accessory, but as vital tool for business, communication with family and even for basic phone service altogether - the quick turnaround for repair can be a life-saver.
Another reason for the appeal is that today's cell phones are often loaded up with important and meaningful personal data–from contacts to notes to pictures and videos of family and friends and a whole lot more. Many people would prefer to keep their phones rather than replace them, or at least be able to transfer the sometimes irreplaceable data. One customer, Greg Daggett, seems to sum it up best. "Genius Phone Repair is an Oasis in the midst of the cell phone jungle."
"Before I found Genius Phone Repair" says Daggett, "I would take my malfunctioning or broken cell phone to the provider and they would either recommend sending it in to the OEM for repair or buying a new one. I would not know if it was repairable and would have to pay no matter what the case. With Genius, I walk in, show them the problem, they provide me with an estimate, and if they fix it I pay, but if it can't be fixed, they don't charge me. I know what my options are, and it can all be taken care of right there."
Says Dagget, "I brought in my wife's iPhone 4, which she had dropped. The phone still worked but she could only complete a call using the speaker option because she could not hear through the earphone anymore. In a few minutes, Genius gave me an estimate and let me know that if it couldn't be fixed there would be no charge. About an hour and a half later, I got the call that the phone was repaired and I could pick it up. It works great."
Notebaum says the company specializes in touch-screen phone repair, such as iPhone repair but can fix any phone, tablet, or mp3 player from any manufacturer–Apple, Android, Samsung, HTC, Motorola and all others. The company also offers related services such as upgrades, jailbreaking and cash for old cell phones and devices. They also serve more than just local Grand Rapids customers. Through their website and through continued word of mouth the company gets repair requests from all over the state of Michigan and has always offered a mail-in service with quick turn-around for customers all over the US. "California, Oregon, New York, Florida, you name it we have repaired their devices and sent them back to customers." The company also handles corporate accounts.
So the next time you've cracked the screen on your new iPhone 4S, dropped your iPod in a glass of Vodka or accidentally submerged your iPad in the bath, consider visiting Notebaum and his team at Genius Phone Repair, either at one of their now two Grand Rapids locations, or on the web.