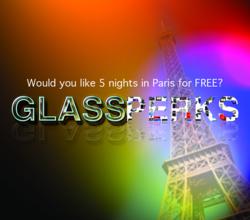 South Gate, CA (PRWEB) May 15, 2012
Glasswerks Inc. -- a leader in commercial and architectural glass fabrication -- is proud to announce that since the inception of its Glassperks rewards program on November 15, 2010 more than 800 customers have joined.
To date, many have already redeemed their points for popular electronic items including desktop computers, LED computer monitors, 42-inch Samsung LED TVs, Lumix by Panasonic Digital Cameras, bluetooth accessories, as well as iPods, iPads and docks. Other customers have redeemed Glassperks rewards points for Makita Tool Sets, kitchen utensils, Omaha Steaks and more.
The concept of Glassperks is simple: the more customers spend with with Glasswerks, the more points they earn towards sporting goods, electronics, housewares, apparel and other fantastic items. There's no catch, there are no hidden fees and points never expire.
Signing up for Glassperks also comes with access to the entire My Glasswerks suite, an online portal where customers can make purchases and get quick, easy access to quotes and check the status of their orders.
With a diverse line of products and services, exceptional customer service, quick turnaround and, now, the Glassperks rewards program, commercial glass consumers can have it all from Glasswerks.
To become a Glassperks member and join the hundreds of glass buyers getting rewards for their purchases, go to http://www.glasswerks.com/glassperks.
About Glasswerks Inc.
Glasswerks Inc. is a leading commercial and architectural glass fabricator headquartered in South Gate, California. Glasswerks Inc. produces architectural glazing products, glass furniture, mirrors and decorative glass; specializing in the production and fabrication of laminated, tempered, insulated, bullet-resistant, hurricane-resistant, and high performance low-e glass products. Born out of the competitive construction landscape of Los Angeles in 1979, Glasswerks Inc. operates from eight U.S. facilities located in Southern California, Texas, Ohio, Pennsylvania and North Carolina. Catalina Tempering and Avalon Glass & Mirror are subsidiaries of Glasswerks Inc. Visit http://www.glasswerks.com for more information.