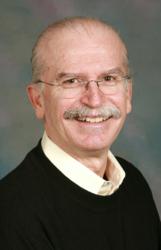 He is an architect's architect. Clients demand him; contractors respect him; our interns seek his mentoring, which he gives freely.
Los Angeles, California (PRWEB) May 09, 2012
On May 17, Gary K. Dempster, FAIA will join the 2012 Class of Fellows of The American Institute of Architects for the investiture ceremony at the National Cathedral in Washington DC. Dempster, a partner at Altoon Partners, has been elevated to the prestigious College of Fellows for his career-long commitment to improving the international standards of process and craft on architectural projects worldwide.
"As the partner responsible for technical and constructions services, Gary has developed a culture of collaborative engagement that extends to all members of the design and construction team, no matter where we are working," said Ronald A. Altoon, FAIA, founding partner of the firm where Dempster has worked for 27 years. "He is an architect's architect. Clients demand him; contractors respect him; our interns seek his mentoring, which he gives freely."
"We have been able to work successfully in 43 countries, including many in emerging countries as a mid-sized practice because we have always recognized that architecture is a team endeavor," explains Dempster. "Whether we are working in Russia or China or Southern California, my approach is the same: understand the context, build trust through communication, foster teamwork and show respect for everyone on the team."
Dempster's skill in managing complex, often sensitive, projects working with local teams international and at home is reflected in the range of high-profile projects in firm's portfolio. Among his notable successes are the Southwestern University School of Law, Los Angeles, CA; Fashion Show, Las Vegas, NV; Waikiki Beach Walk, Honolulu, HI; Paramaz Avedisian Building, American University of Armenia, Yerevan, Armenia; Walsin Centro, Nanjing, China; and Metallist City Centre, Kharkiv, Ukraine.
In addition to his extensive project work, Dempster is respected for his deep knowledge of technical construction issues and his understanding of real estate development requirements — knowledge that he shares not only with his teams but also with his colleagues across the three offices of the firm, with the AIA and other professional associations, and with students.
A graduate of the University of Southern California, where he earned his Bachelor of Science in Architecture, Dempster is a member of the USC Architectural Guild. He is also an active member of the AIA Los Angeles Chapter, the AIA California Council and a number of civic and community service organizations.
The global practice, with offices in Los Angeles, Amsterdam and Shanghai, recently changed the name of the firm to Altoon Partners from Altoon + Porter Architects to reflect a transition in leadership. With an international reputation and clientele for their award-winning retail, residential and mixed-use developments, the firm's current and recent domestic projects include Shops at Summerlin, Summerlin, NV; The Shops at Bay Plaza, The Bronx, NY; and The Collection at RiverPark, Oxnard, CA. In addition, the firm has projects in ten cities in China including Nanjing, Wuhan, Guangzhou and Qingdao. In Europe, developments including GoodZone, Moscow; Nieuw Hoog Catherijne, Utrecht, The Netherlands; and Tarsu, Tarsus, Turkey, are in construction or recently completed.