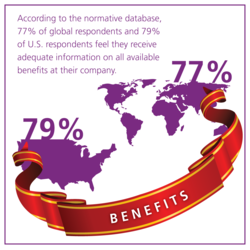 Chicago, IL (PRWEB) May 09, 2012
A key issue that many managers have following the administration of an employee survey is being able to focus on the right issues. Attention is often placed on issues that are not within a given manager's control or that do not reflect issues identified from the survey. Global research by TNS Employee Insights provides evidence indicating that it crucial for managers to recognize their organization's strengths and pursue those windows of opportunity in order to drive satisfaction and deliver actionable results.
According to the survey results from employees at a major division of a global airline, scores for the issue of pay were as low as 27 percent favorable. In another case, the compiled scores for benefits were only 37 percent favorable. As a result of such low statistics, managers at these organizations assumed pressure from their employees to place greater focus on pay and benefits. But because the managers had a lack of control over either of these issues it was difficult to successfully communicate that to employees throughout the organizational structure.
A consequence of poor communication is that both the manager and employee can lose faith in the worth of the survey. Another tendency in many organizations is for morale to decline in a variety of work units. But when provided with all of the necessary information on the benefits available, respondents in the TNS Global Normative Database reported a 77 percent satisfaction level globally and 79 percent in the United States.
So, while "dealing with pay issues at my level is sometimes like trying to boil the ocean," as one manager remarked, managers should place greater focus on issues that are within their control, such as communication and recognition.
Based on survey results and feedback from over 140 countries, the expert consulting team at TNS has developed seven action steps to take following an employee survey that will maximize engagement levels:
1. Share results with your team, and ask for input and solutions: Employees want to see positive changes occur within the organization. It is critical that post survey actions include employees' input so that they understand that their perspective is valued and taken seriously.
2. Focus on areas that are within control: Setting clear goals allows managers to create effective and workable action plans that are directed toward achieving those goals, and which sets specific time frames for implementation. Managers must communicate those action plans to employees across the organizational ladder. This helps employees prepare for the changes that will be taking place, and also creates a sense of accountability for everyone involved in the action planning process.
3. Set realistic goals and measures: It is also important for senior managers at the corporate or functional unit level to set goals to address specific issues based on their perspective of the organization as a whole. Yet it is essential for managers to be willing and able to help set clear and specific goals that address explicit concerns obtained from the survey. Monitor and measure the progress being made toward achieving specific goals, and when successful, celebrate the successes.
4. Know the limits of the resources that are available: In order to set appropriate goals, employees must understand which issues are within your control and how long it will take for changes to be implemented. It is also important to understand how various changes will affect employees, and what resources are available to help resolve an issue.
5. If necessary, involve top management: For those issues that cannot be realistically dealt with at the management level, it is critical that the manager communicates to employees that these areas are being addressed at a higher level in the organization. It has been observed that surveys can get a bad reputation when there is a failure to effectively communicate results throughout the organization; otherwise the perception is that nothing is being done about the employees' viewpoints.
6. Follow-up and evaluate the progress being made: It is also important to conduct regular follow-up communications and follow-up employee surveys in order to properly evaluate the outcomes of your action plans.
7. Communicate, communicate, and communicate: Specifically, one of the worst outcomes in a survey is to have employees perceive that the survey results are being ignored or undervalued. Communication is a factor within a given manager's control, so it is crucial that they effectively utilize that tool to connect to employees throughout the organization.
This system provides an opportunity for managers to encourage senior management to think about taking action to help resolve specific issues, and hopefully, improve the favorability scores on the following survey.