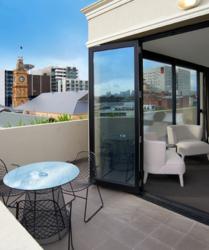 A serviced apartment investment offer some key residential property attractions without the burden of management fees, vacancies, advertising and letting costs .
(PRWEB) May 25, 2012
Following the recent launch of Quest's dedicated investment division Quest Properties, new investment opportunities have been released at Quest Moonee Valley, Victoria, Quest Maitland, New South Wales, Quest Gladstone Queensland and Quest Launceston, Tasmania for people considering buying a serviced apartment investment.
These new Quest serviced apartment investments start from $235,000 and provide investors with the benefit of a long term lease with commercial performance; fixed annual rental increases; predictable outgoings; no vacancies or management fees; attractive taxation benefits; security of a trusted Australian brand; and suitability for SMSF .
Rohan Davis, General Manager – Investment, Quest Serviced Apartments said with a quarter of all casual accommodation in Australia now serviced apartments , it's no surprise that serviced apartment investments have also grown in demand.
"The serviced apartment product has evolved significantly over the past 30 years with investors also recognising the value they add to their investment portfolio," said Mr Davis.
"People buying serviced apartments vary, as do their reasons for investing in the asset class. They range from first time investors to those managing their own SMSF. They may choose a serviced apartments investment to complement an existing investment portfolio or to provide the regular income stream the asset class can offer.
"Since we launched our dedicated business division, Quest Properties, our property sales team has fielded hundreds of enquiries, providing new investors with a trusted source of information about the Quest product and up to date insights into the serviced apartment industry," said Mr Davis.
For investors looking for a simple, hassle free property investment, Mr Davis says a serviced apartments investment* may be a good choice.
"People considering buying serviced apartments should thoroughly research the market as there are several variations of serviced apartments out there. They should take the time to fully explore this asset class to ensure a serviced apartment investment is the right choice for them," he said.
Today, serviced apartments make up 25 per cent of Australia's domestic accommodation industry, a segment which generates approximately $2.3 billion of annual revenue .
Across the board, serviced apartment revenue has increased 3.7 per cent per annum on average over the past five years, including the 2008 – 2010 years when domestic travel retracted as a consequence of economic downturn .
For people interested in a serviced apartment investment or recently released Quest opportunities, more information is available at questproperties.com.au or by calling 1800 MY QUEST.
About serviced apartments and Quest Serviced Apartments
The serviced apartments industry has come a long way since the term was first used in the 1970s. While popular for relocations and with sun-seeking holiday makers, the serviced apartment model was quickly adopted by a select few who identified the potential for business travellers.
Since then, the serviced apartments industry has significantly evolved to become the first choice of corporates for extended stay travel, especially in Australia.
Generally speaking and as defined by CBRE, the serviced apartment business consists of a professionally managed operation with the main purpose for providing serviced apartment product to the general public from one night to a maximum of one year .
Demand from corporates has grown so much so that Quest Serviced Apartments, the largest and fastest growing serviced apartments brand in Australasia has recently launched a new dedicated investment division call Quest Properties to manage investment in its business and facilitate growth.
Leaders in market research and reporting on serviced apartments and serviced apartment investments include CBRE and Atchison Consultants. Both have recently produced reports on the serviced apartment industry and the potential of a serviced apartment investment, including CBRE's Australian Serviced Apartments: A formation of an industry and Atchison Consultants' Serviced Apartments Investment Review. These reports provide useful information for investor thinking about buying serviced apartments.
About serviced apartment investments
What is a serviced apartment investment and how does it work?
Serviced apartments can be individually owned by strata title or owned collectively by one entity. Day to day operations can be managed through a franchise agreement, a management agreement, a lease or an owner/operator structure .
How do serviced apartment investments perform within an investment portfolio?
A serviced apartment investment provides a stable income component with an investment portfolio. The inclusion of serviced apartments within a diversified portfolio sees a significant reduction in volatility of return. The probability of a negative return reduces with the inclusion of serviced apartments in a portfolio. Annual rental increases can also serve as a hedge against inflation .
Key benefits of a serviced apartment investment
Atchison Consultants described the investment attributes of serviced apartments as including "direct property exposure with a relatively affordable price entry point usually on a long-term lease with
contracted periodic rental uplift, tax and depreciation benefits and alternative use through conversion to residential. Income returns are generated for investors either by rent charged for occupation of the property in accordance with the lease contract or by participation in the operational revenue as managed by the operator" .
Set side-by-side, an attachment highlights how a serviced apartment investment* compares with a residential investment.
The information in this release was provided by Quest Properties and is intended to provide general advice only. People considering a serviced apartment investment should seek professional advice before buying serviced apartments.