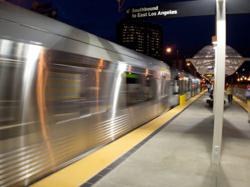 touring the city by Metro Rail is not about doing penance or roughing it by going green... you can treat yourself and the Earth well at the same time
Los Angeles, CA (PRWEB) May 10, 2012
They were fed up with the clichés about Los Angeles: "it's an unmanageable suburban sprawl", "it's a cultural vacuum", "it's crime-ridden" and "you need a car to get anywhere." The L.A. they knew was exactly the opposite: a city of diverse and distinctive neighborhoods; hundreds of cultural attractions, restaurants, music venues, hotels, spas and spiritual retreats, all accessible by a clean, efficient, safe and growing Metro Rail system. So Elisa Makunga and David Madsen decided to show the world the L.A. they love and to debunk the myths that tourists and locals alike believe about Los Angeles.
True citizens of the city of perpetual re-invention, Makunga and Madsen combined the experiences and frustrations of earlier careers to create LA Electric Travel, a new on-line guide to seeing Los Angeles by Metro Rail. They've also just released a guide book companion to the site, "L.A. Adventures: Eclectic Day trips by Metro Rail Through Los Angeles and Beyond". The travel guide features 14 day trips and 100 things to do in L.A. The website takes visitors to over 330 attractions in Los Angeles by Metro Rail. "All of L.A. intersects here," says Makunga. "Art, culture, food, music, sports, famous landmarks and off-the-wall destinations such as the Bunny Museum or Chicken Boy. We like to highlight local businesses: mom and pop cigar stores, artisans who make handmade flamenco guitars, Korean immigrant-run foot massage shops, neighborhood yoga studios, pagan apothecaries who will prepare a custom-made love potion for you."
Madsen is a produced screenwriter, used to battling Hollywood's gatekeepers and their fear-based decision-making. "I needed to produce something that was creative and personal, where "no" wasn't the default response," Madsen says. Makunga was a mediator, whose work as a human relations specialist had taken her to every neighborhood in Los Angeles County. They both love exploring the city, and despite occasional threats to defect to a hammock on a Zanzibar beach or a goat farm in Northern California, they knew they would always be Angelenos. "We built this business to prove to the world that there's a vast, unvisited canvas out there that people miss if they stay in their cars," says Makunga. "We don't have corporate or civic sponsors, so all the attractions listed on L.A. Electric Travel reflect our personal tastes and opinions."
Madsen and Makunga believe Los Angeles is in the middle of a renaissance "Changes are happening every day in L.A. at the sidewalk level," says Makunga. "Every neighborhood has its Art Walk; companies like Melting Pot and Urban Food Crawl offer walking food tours. There are meetups that sponsor Metro riding trips. Downtown has revitalized, with attractions such as The Grammy Museum and L.A. Live easily reachable by Metro Rail. The mayor of this freeway entangled city is an energetic evangelizer for mass transit. The city's new Bike Share Program hopes to put 4,000 GPS-linked rental bikes on the streets of L.A. within two years. Crime has dropped for nine straight years. The streets are safer than they've been in decades, which encourages people to get out of their cars to ride, walk and patronize local, non-chain businesses. Metro Rail has just opened the Expo Line, which will connect Downtown with L.A.'s West Side. Here's another bit of myth busting news: US News recently ranked the public transportation systems of ten American cities, rating factors such as spending on mass transit, safety incidents per million trips, and the number of trips taken per capita -- L.A. came in third, behind New York and Denver. This is all happening as Los Angeles welcomed a record 26.9 million visitors in 2011 (who spent a record $15.2 billion). We want a significant percentage of those visitors to consider viable, alternative means of seeing LA." says Makunga. "But touring the city by Metro Rail is not about doing penance or roughing it by going green," she adds. "Many of the day trips in our guide feature the best restaurants in town, or a pampering afternoon at the spa. You can treat yourself and the Earth well at the same time."
This "L.A. renaissance" is underway as the national zeitgeist is shifting to greener, less fossil fuel-dependant modes of transportation. In the last twenty years, public transportation use has increased at a faster rate than highway use. A new study by US Public Interest Research reveals that young people are using mass transit more and are driving less. Madsen and Makunga believe L.A. Electric Travel is a perfect resource for this new breed of urban adventurer. "Travelers are sending real-time post cards via Instagram, uploading their vacation albums seconds after they're snapped; they're riding the rails with their tablets and smart phones". When a local restaurant changes its hours, or a museum adds a new attraction, L.A. Electric Travel can respond quickly by spreading the word on Twitter or Facebook.
"Whether it's the high cost of gas or changing values, we think time and demographics are on our side," says Madsen. "People who use and appreciate L.A. Electric travel will make traveling by Los Angeles Metro Rail a regular part of their lives."