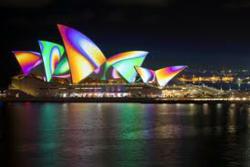 Sydney, Australia (PRWEB) May 11, 2012
From May 25 – June 3, Sydney Opera House will give over all of its venues, foyers, recording studios and rehearsal rooms to Vivid LIVE, its annual artist-driven music festival, defined by special commissions, one-off events and Australian premieres. Vivid LIVE 2012 features over 22 events, including the Australian premiere of Karen O's psycho opera STOP THE VIRGENS and Amon Tobin's immersive music experience Live Beyond 3D 'ISAM'; a special performance by Florence + The Machine and the Ceremonial Orchestra; a three-way commission featuring Bryce Dessner, Nico Muhly and Sufjan Stevens, a preview of The Temper Trap's highly anticipated sophomore release and the Australian debut of Janelle Monae.
Opening the festival on May 25, Florence + The Machine will perform with the Ceremonial Orchestra in a special Concert Hall engagement. Featuring over 40 performers onstage, this performance will represent the largest incarnation of the group yet.
Vivid LIVE will host the Australian premieres of two ambitious, spectacular large scale music productions, exclusive to Sydney: Karen O's Pschyo-Opera, STOP THE VIRGENS will take over the Opera Theatre for five nights from May 30; while Amon Tobin's epic audiovisual spectacular, Live Beyond 3D ISAM will play two performances in the Concert Hall on June 2.
Also making her Australian debut for two nights on 26 and 27 May, Janelle Monae & The Archandroid Orchestra will electrify the Concert Hall with her ambitious mix of R&B, funk and cinematic pop.
After a near-two-year absence from Sydney stages, The Temper Trap is pleased to reveal they will be making their only Sydney appearance at Vivid LIVE, with two special performances in the Concert Hall on Thursday 31 May and Friday 1 June. With the upcoming release of their self-titled, second LP – a follow up to their internationally acclaimed debut release Conditions, The Temper Trap's highly anticipated return will be a centrepiece of Vivid LIVE.
In an exceptional collaboration, Vivid LIVE will see three of the defining creative minds of New York's current music scene, Bryce Dessner, Nico Muhly and Sufjan Stevens perform together in a rare series of concerts, a three way commission between Sydney Opera House, Muziekgebouw, Eindhoven and the Barbican, London.
In a world premiere and another commission exclusive to Vivid LIVE, celebrated Danish trio Efterklang will make their Australian debut performing material from their upcoming fourth album Piramida, in collaboration with Sydney Symphony.
Last seen at Sydney Opera House as part of Lou Reed & Laurie Anderson's Vivid LIVE in 2010, Shara Worden AKA My Brightest Diamond will perform a full concert version of her third and most recent album All Things Will Unwind.
Also returning to Vivid LIVE will be Sydney's PVT, who were invited by Brian Eno to perform the inaugural festival in 2009 (then known as Luminous). In this special performance, the trio will re-imagine their innovative catalogue and preview a selection of previously unheard material, expanding their line up with additional orchestration and a specifically designed light show.
In another showcase of a Sydney act making their mark on the world stage, local electronic trio, Seekae are putting together a concert especially for Vivid LIVE.
As part of her visit for the 2012 APRA Song Summit, UK artist Imogen Heap will perform a series of stripped back renditions of songs from her globetrotting, in-progress album - 6 songs in 60 minutes. This early evening recital will be set in the intimate and picturesque surrounds of the Concert Hall northern foyer, on May 29.
Throughout the Festival, Vivid LIVE will invite local music industry labels and promoters to The Studio to present a series of curated parties. On opening night, Niche Productions will present two of the most singular and exciting young voices to emerge in underground Hip Hop, Detroit's Danny Brown and LA's MED. In their first Australian appearances, these two rappers will be joined by the equally divergent Ellesquire and Halfway Crooks DJs.
Saturday 26 May sees the return of Stephen Pavlovic's legendary label, Modular to Sydney Opera House as they take over the Studio to showcase three mavericks who tread the boundaries of rock, dance and pop – Tom Vek, Jonathan Boulet and Kindness.
Thursday 31 May will see Penny Drop and FBi Radio present an evening dedicated to the darker side of indie rock that has recently flourished around the world, with the Australian debuts of Zola Jesus and Light Asylum, two leaders in this most gothic and operatic of genres. The Australian contingent of this fast-growing scene will be represented by Melbourne band Forces.
On June 1, Sydney-based record label and club host, Future Classic will convert The Studio into a euphoric club that traverses dance music's past, present and future with Isolée, Jacques Renault, Flume, Future Classic DJs, Andy Webb, Shunji & Stelle Bonus, Pelvis (Germany, USA, Aus).
And on June 2, the underground epicentre of Sydney nightlife, Goodgod Small Club will bring its tropic-themed walls and provocative flavours to Vivid LIVE with cult heroes from 80's hip hop, New Orleans bounce to Jamaican dancehall and Australian garage including Egyptian Lover, Nicky Da B, Prince Zimboo, No Zu, Geoffrey O'Connor, Donny Benét, Straight Arrows, Levins, Yo Grito DJs, Goodgod Sound Unlimited (USA, Jamaica, Aus).
To close the Festival, Vivid LIVE and Sydney Film Festival will present the Australian premiere of SHUT UP & PLAY THE HITS, the documentary capturing the week before, the day after and the very occasion of LCD Soundsystem's Madison Square Garden Farewell concert.
As the centrepiece to Vivid Sydney, each year a Vivid LIVE artist is invited to transform the sails of Sydney Opera House with digital mapping technology. In 2012, Vivid LIVE has commissioned multi-award winning German design collective, URBANSCREEN to create a new artwork that will explore both the iconic sculptural form of Sydney Opera House, as well as its place as a home for music, dance and drama.
For the first time Sydney Opera House will offer bespoke backstage tours during Vivid LIVE. Departing from Stage Door at 6pm each night throughout Vivid LIVE, these intimate tours will offer exclusive access into Sydney Opera House theatres, backstage corridors and possibly even dressing rooms - all bound to be abuzz with festival fever.