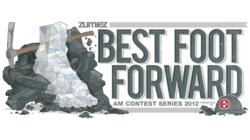 Everett, WA (PRWEB) May 10, 2012
The 6th Annual Zumiez Best Foot Forward Am Skate Contest Series Presented by Bones Bearings is a jam format skate contest to help up and coming Ams get noticed.
The Zumiez Best Foot Forward series started off with a bang on Wednesday, May 9th in Milwaukee, WI, with local skater Matt Nordness winning the contest over more than 70 local rippers. The series continues with six additional renegade stops taking place at skateparks in Indianapolis, IN on May 11th; Atlanta, GA on May 13th; Kansas City, MO on May 16th; Tulsa, OK on May 18th; Tempe, AZ on May 21st; and Las Vegas, NV on May 23rd; before joining all 12 stops of the Zumiez Couch Tour.
The 6th Annual Zumiez 'Best Foot Forward' Am Contest Series Presented by Bones Bearings Schedule
Date City Location
May 9 Milwaukee, WI Cream City Skatepark
May 11 Indianapolis, IN Anderson Skate Plaza
May 13 Atlanta, GA Hazard County Skatepark
May 16 Kansas City, MO KC Indoor Skatepark
May 18 Tulsa, OK Broken Arrow Skatepark
May 21 Tempe, AZ Tempe Skatepark
May 23 Las Vegas, NV Skatecity Skatepark
May 26 Seattle, WA Alderwood Mall
May 28 Portland, OR Clackamas Town Center
June 2 Sacramento, CA Sunrise Mall
June 7 Salt Lake City, UT Fashion Place Mall
June 9 Denver, CO Flatiron Crossing
June 13 San Antonio, TX Ingram Park Mall
June 15 Houston, TX Katy Mills
June 18 Baltimore, MD White Marsh Mall
June 20 Philladelphia, PA Franklin Mills
June 21 West Nyack, NY Palisades Center
June 24 Chicago, IL Westfield Fox Valley
June 26 Minneapolis, MN Mall of America
Each Zumiez Best Foot Forward stop on the Zumiez Couch Tour includes a local open qualifier for the first 20 skaters to register online. Registration information can be found at http://www.zumiezbestfootforward.com . The top three from each local Zumiez Best Foot Forward open qualifier will earn a spot in the Zumiez Best Foot Forward invitational contest later that day.
Nordness, along with the top Am from each of the remaining 18 Zumiez Best Foot Forward contest stops will win an all-expense-paid trip to the Zumiez Best Foot Forward Finals during the last Zumiez Couch Tour stop on June 26th at Mall of America in Minneapolis, MN. Bones Bearings will give the top three finalists a sponsorship from Bones Bearings for one year.
In addition, the overall top 3 finalists will win a free trip to Los Angeles which includes: filming at famous skate spots, a spot to compete in the Hometown Heroes Finals at Summer X Games 18, and exclusive experiences from tour partners.
All Zumiez Best Foot Forward events are FREE to the public and everyone is encouraged to come out and support their local skateboarding community.
http://www.zumiezbestfootforward.com
About Zumiez Inc.
Zumiez is the leading mall-based retailer of action sports clothing, footwear, equipment, and accessories. Everything we do— from the brands and styles we carry, to the environment in our stores, to the events we create and partner with— is focused on supporting and promoting action sports and the action sports lifestyle. Our website is http://www.zumiez.com.
About The Zumiez Couch Tour 2012
Zumiez is returning with its 12th annual Zumiez Couch Tour, kicking off May 26th in Lynnwood, WA. The Zumiez Couch Tour is free to the public and features skateboarding demonstrations by the Almost, DGK, Enjoi, Flip, Girl, KR3W, Plan B, Real, SUPRA, Toy Machine, Volcom and Zero skate teams, as well as live music performances by bands including We Came as Romans, Set Your Goals, The Wonder Years, The Cab, A Skylit Drive, The Classic Crime, Daytrader, and Conditions. Complete details available at http://www.zumiezcouchtour.com.
About Bones Bearings
Bones Bearings is a manufacturer & distributor of high performance and competition skateboard bearings since 1983.
http://www.bonesbearings.com