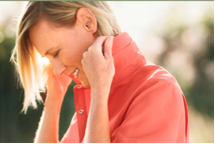 Belleville, WI (PRWEB) May 09, 2012
Baked-in UPF/UVF? Check. Flip-up sun collar? Check. Breathable, moisture-wicking fabrics? Check and check. With the longer, warmer days of summer upon us, Duluth Trading Company, the national workwear retailer, introduces the gotta-have UPF and sun protective clothing that will keep women safe from the harshest of steamy outdoor elements – including the sun's harmful rays. Go ahead, make dermatologists proud!
From the sun-shielding Crusher Hat, to the sweat-busting Long Sleeve Action Shirt, to the skin-saving Garden Pant, Duluth Trading Company has the sun protection hats, shirts and bottoms to safeguard skin – no matter what the outdoor chore.
"Whether digging in the garden or simply mowing the lawn, Duluth knows that women spend a significant amount of time working outdoors in the summer and that means serious exposure to the sun," says Stephanie Pugliese, president and chief merchandising officer, Duluth Trading Company. "With the help of Duluth Real Women testers and models, we've been able to design outdoor workwear with built-in sun safety features to ensure that women can do what they love – better, longer and more safely."
To check out all of Duluth's sun protective gear, check out Duluth Trading Women.
For more information about how to stay 'sun-safe' this summer, watch "Sun Protection Tips of the Trade" featuring Duluth Trading Real Woman Model and sustainable farmer Rebecca Claypool. Claypool shares her tips of the trade on how to manage the risks of working outside.
About Duluth Trading Company
"There's gotta be a better way." Duluth's story began in 1993, when two tradesmen saw guys lugging tools to the job site in all kinds of strange containers, and thought, "There's got to be a better way." So they invented the Bucket Boss®. Today, Duluth Trading Company is a multichannel apparel retailer carrying on that tradition of ingenious workwear that solves problems for hardworking men and women.
Duluth Trading's tough, functional workwear is designed and tested to endure and meet the demands of tradesmen and a hardcore team of Real Women testers. Signature products, like the Longtail T® (the cure for "plumber's butt"), Ballroom® Jeans (with a crotch gusset for crouching without the ouch), and legendary Fire Hose® Workwear are developed at Duluth Trading's headquarters in Belleville, Wisconsin. Duluth Trading opened its flagship store in Mount Horeb, Wisconsin in 2010 and plans to open its second store in Port Washington, Wisconsin in fall 2012.
###