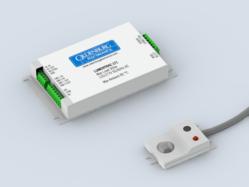 Milwaukee, WI (PRWEB) May 09, 2012
Oldenburg Electronics™, a designer and manufacturer of electronics products serving the lighting, mining, defense and industrial markets, received a patent (U.S. Patent No. 8,111,388) for the LumenTrac™ LT1 Notification System. These innovative new technologies earned a patent through the USPTO's Green Technology Pilot Program in the area of LED failure indication systems. Product will be available Fall 2012 Licensing, OEM and Distribution opportunities are currently available.
As LED sources became viable for general lighting, Oldenburg Electronics heard architects, lighting designers, and interior designers voice concerns about the possibility that LED luminaires would not be replaced or "changed" once their output fell beneath 70% of their initial output (often referred to as L70 lifetime). Since LED sources will continue to lose output without "going out" like a fluorescent or incandescent lamp, specifiers saw a barrier to incorporating LED products into their fixture schedules. Without diligent adherence to maintenance schedules, illuminance levels could drop below design levels and leave spaces too dim to perform tasks efficiently or cause a safety hazard (particularly in stairwells and other paths of egress).
Based on this feedback, Oldenburg Electronics began developing a system that would provide notification, both through visual indication and through interaction with building systems. This notification would indicate that the LED source within a luminaire had reached the end of its design life. Every installation is different; LumenTrac focuses on monitoring the true lumen output of the luminaire, rather than simply logging on-time; external factors can make an LED source both last longer or fade faster than the commonly cited "50,000 hours" of operation before losing 30% of its output.
The LumenTrac monitors the output of a light source at the fixture level and sends a notification when the source has reached 70% of its initial output. Sensor placement inside the luminaire reduces interference from external factors and the measurement algorithm accounts for ambient light in a space for accurate notifications based on the true output of the light source. LumenTrac can be specified and integrated into most manufacturers' luminaires.
About Oldenburg Electronics: Oldenburg Electronics is a Wisconsin-based designer and manufacturer of electronics products serving the lighting, mining, defense and industrial markets. We provide tangible value in our products to the customer, support continual improvement opportunities for our workforce, and demonstrate commitment to the community measured by our stewardship of the environment and promotion of social responsibility. Oldenburg Electronics is committed to high quality, unique solutions by leveraging their expertise across their core industries.