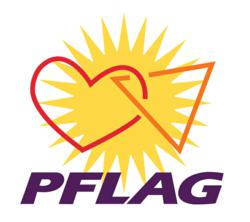 Who will this amendment protect? Certainly not the thousands of families who live and work in the state that will now have further rights stripped away from them
Washington, DC (PRWEB) May 09, 2012
PFLAG National (Parents, Families and Friends of Lesbians and Gays)—the nation's original ally organization, and the largest grassroots-based non-profit for families, friends and allies of lesbian, gay, bisexual and transgender (LGBT) people—has issued the following statement regarding today's vote to pass Amendment 1 in North Carolina.
Jody Huckaby, Executive Director of PFLAG National, said the following:
"We at PFLAG National are frustrated and furious that discrimination has now been enshrined into the State Constitution in North Carolina. Discrimination in marriage equality was already the law of the land in North Carolina. Who will this amendment protect? Certainly not the thousands of families who live and work in the state that will now have further rights stripped away from them, leaving them unprotected in matters of healthcare, domestic violence, estate planning, tax benefits and more. And certainly not businesses headquartered in the state, like our partners at Bank of America, Replacements, Ltd., Mitchell Gold – Bob Williams, which understand that discrimination in any form is bad for business.
PFLAG National stands in solidarity with Equality North Carolina and the many coalition partners of Protect North Carolina Families to continue to educate every community across the state about why this kind of discrimination is wrong for all families and what we can do together to create the cultural change necessary to end discrimination against our LGBT loved ones."
National: Liz Owen | lowen(at)pflag(dot)org> | (202) 467-8180 ext. 214
Local: Linda Stroupe | linda(dot)stroupe360(at)gmail(dot)com | (336) 420-0120
Founded in 1972 with the simple act of a mother publicly supporting her gay son, PFLAG is the original ally organization. Made up of parents, families, friends, and straight allies uniting with LGBT people, PFLAG is committed to advancing equality through its mission of support, education and advocacy. Now entering its 40th year, PFLAG has more than 350 chapters and 200,000 supporters crossing multiple generations of American families in major urban centers, small cities and rural areas in all 50 states. To learn more, please visit http://www.pflag.org.