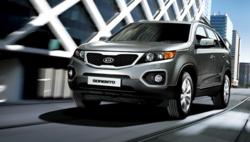 (PRWEB) May 11, 2012
Kia Motors Australia has provided logistics support to the 2012 Rotary Ride for Research which over the past 25 years has raised over $820,000 for Australian Rotary Health (ARH).
ARH is a major research grants fund and is the largest Australia-wide project undertaken by Rotary.
Since 1985 the fund has allocated over $26.7 million through 495 grants for research into Sudden Infant Death Syndrome, Care of the aged, adolescent health, family health, mental health, cancer and more.
From 15 to 21 April 2012 around 40 riders embarked on a 990km journey from Melbourne through Ballarat, Heathcote, Bendigo, Murchison Seymour, Alexandria, Eltham and back to Melbourne to raise valuable funds for ARH.
Kia Motors Australia supplied five vehicles for the duration of the event to assist with logistics. Two Sorentos, two Carnivals and one Kia Rio provided rider support to each of the four groups.
"The support Kia provides to the event each year is fantastic," said ride coordinator and Boronia Rotarian Rod Henry.
"The Support and Gear or SAG wagons as we call them, carry food, clothing and offer respite for riders who have simply run out of puff.
"The vehicles look fantastic. They draw crowds to the event when we stop and really add a professional look to the ride. They make it easier for us to source Support Crews when we tell them they're going to be driving a brand new Kia for the week."
"Most importantly they are very spacious and allow us to transport people and on some occasions a bike if required, which certainly adds a safety element to their involvement."
Each vehicle was responsible for looking after a specific team of riders while they negotiated the course through regional Victoria, averaging around 140 km per day.
The 2012 Ride for Research event managed to raise another $30,000 for Australian Rotary Health.