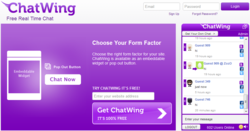 Denver, CO (PRWEB) May 09, 2012
Denver, CO – Chatwing's developers have lately realized that the Anime Manga community is a large niche that can be tapped into. Many Anime fans love Manga, based on the long-standing Manga websites such as Mangafox and Mangahere. This is why Chatwing's developers have thought of releasing an efficient chat box that can provide an avenue of communication for these Manga fans. In a way, this is Chatwing's expansion to the Anime Manga community.
Anime Manga fans would love Chatwing because it is straightforward and operates on a freemium business model. In Chatwing, subscription fees are nonexistent because the developers believe that great service can be delivered freely. Since the Chatwing shout box is a widget, it can also be installed to blogs and websites that accept HTML coding.
To install Chatwing to a blog, the user must first register his blog or website's domain name. After that, the user can now proceed to the customization phase. He can change the height and width of the chat box by adjusting two sliders. As for the color, he can mix and match hues until the desired effect is achieved. Once everything is complete, Chatwing will now generate the necessary HTML code and the user can copy it. The widget will go live in just few seconds.
Chatwing's developers and research team have discovered that some Anime bloggers use the chat widget to entertain their fans. They usually post questions about their favorite Anime or Manga series. Some of them also talk about fan fictions, cosplays, and action figure collecting. Hot topics in Anime blogs are Naruto, Bleach, Fairy Tail, Hitman Reborn, and One Piece. Some have even shared links to their Anime Manga sketch samples.
As a bonus, Chatwing users can log in using their Facebook accounts. This makes information exchange easy and heightens the rate of communication. People can also use emoticons and avatar displays to spice up any chatrooms conversation or topic. Users who want to check out Chatwing can go to the main website directly. There, anyone can connect right away using the embedded chat box. Chatwing's Facebook page is also updated with fresh content every now and then.
About Chatwing.com
Chatwing.com has developed live chat software for websites and blogs. It caters to different online communities due to its high rate of connectivity. Everyone can create a customizable live chat box feature in 1 minute or less. Users have the ability to customize the size, color, and fonts of the chat product. The ability to chat via social media accounts such as Facebook and Twitter enable Chatwing to offer a personal and unique real-time experience to all sites. Chatwing is 100% free and very easy to use.