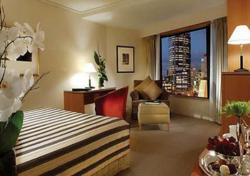 Auckland, New Zealand (PRWEB) May 11, 2012
Choice Hotels Australasia is tackling the online hotel booking environment head on with an innovative Best Internet Rate Guarantee (BIRG).
The hotel group is so confident that their properties have the best available rates on the internet that if a guest finds a lower price for the same hotel and room type on the same dates at any other qualified online source, Choice Hotels will match the rate and throw in the first night free.*
The guarantee is designed to reduce franchisee distribution costs and to deliver higher yielding rates to the property. This will also encourage a higher direct booking conversion and build customer loyalty.
"The Best Internet Rate Guarantee helps keep guests loyal to Choice Hotels Australasia brands and maintain confidence in our website by making it easy for them to find the best rates for any of our hotels" explains Trent Fraser, Chief Executive Officer for Choice Hotels Australasia.
"By driving traffic to our own sites, Choice Hotels Australasia can control the online experience and reinforce positive brand messages about our service, as well as our rates. Guests will be able to count on our hotels to deliver great rooms at the best rates every time."
Choice Hotels International is pleased with the results which showed that BIRG had a greater conversion impact and drove stronger customer loyalty.
Ensuring rate integrity every time not only encourages repeat bookings but also creates a loyal customer with an easy and reliable booking option.
Choice Hotels Australasia looks forward to being the leader in rate integrity in the Australian and New Zealand online booking environment, offering accommodation options from Auckland Airport hotels for those in transit, to holiday accommodation in Queenstown .
The Best Internet Rate Guarantee launches on May 1 this year and applies to all Econo Lodge, Comfort, Quality, Clarion and Clarion Collection hotels across Australasia on the http://www.choicehotels.com.au and http://www.choicehotels.co.nz websites.
*Terms and conditions apply. See choicehotels.com.au for details.
ABOUT CHOICE HOTELS AUSTRALASIA
Econo Lodge, Comfort, Quality, Clarion, Clarion Collection, Choice Hotels Australasia, Choice Privileges and Choice Hotels are proprietary trademarks of Choice Hotels International, Inc. Choice Hotels Australasia is part of Choice Hotels International, which franchises more than 6,100 hotels worldwide including more than 280 in Australia, New Zealand and Singapore. For bookings and information contact 13 2400 in Australia or 0800 803 524 in New Zealand.© 2012 Choice Hotels Australasia. All rights reserved.