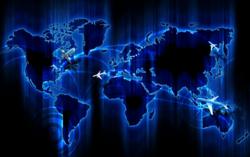 The quest to make the next "episode" of your life the most healthy doesn't just mean access to affordable quality care (which can be tied to the overall cost of living), but to emotional health; not settling for less of a lifestyle
Seattle, WA (PRWEB) May 10, 2012
Baby Boomers brighten their future seeking Traveling4Health & Retirement for greater lifestyle with international living interactive travel map.
Falling off the map is no longer a predestinate decision for today's American reaching the youthful age of 65. Traveling4Health&Retirement recognizes today's and tomorrow's baby boomers turning 65 to 70 are selecting brighter futures for themselves, envisioning fresh alternatives to retirement living independent of the economic trending with upturns and downturns. Baby boomers are discovering retirement is a matter of personal choice, tailored to an individual and unique lifestyle. Gone are the dated axioms like 'work 'til you drop'. Healthful living options for a longer life have taken center stage with a vibrant focus upon living life with purpose and joyfully.
Traveling4Health&Retirement presents fresh and interactive information about retirement living, a healthful lifestyle and the new achievements in international healthcare and medical travel for journeyers, expats, and baby boomers worldwide.
Jennie L Phipps of leading financial website Bankrate reports the reasons Americans choose to retire are as diverse as the many different lifestyles apparent in culture. "Of those people older than 65 and still working, about 50 percent anticipate being able to retire before they turn 70 years old, with 37 percent saying they plan to retire in 2012," Phipps says.
"On average, these respondents say they hope to retire by age 68.5." The reasons for retirement are a complement of many factors. Some are dependent upon personal growth while other decisions for retirement are standalone, simply as a matter of individual choice.
Personal reasons for retirement early or retiring later was independent of tradition retirement mantra. Traveling4Health&Retirement recognizes retirement choice is independent of past tradition in lieu of new lifestyle creations. "The quest to make the next "episode" of your life the most healthy doesn't just mean access to affordable quality care (which can be tied to the overall cost of living), but to emotional health; not settling for less of a lifestyle," says Ilene Little radio personality and host of the new radio program, "Know Before You Go" on Overseas Radio.
A Healthy lifestyle with healthful choices of living is the new standard of selection for baby boomers. Traveling4Health&Retirement celebrates the fabulous trends in destination travel and retirement living opportunities persons at age 65 and greater are discovering for well being and holistic health. Traveling4Health&Retirement is proud to be a part of the baby boomer journey to greater health presenting timely information about medical tourism, destination locations and international living – an ultimate resource for healthful living naturally.
The definitive resource in global health, destination locations and international lifestyle, Traveling4Health&Retirement relates the newest achievements, advancements, and developments in vacationing to explore the best places to retire. Travelers, medical professionals, and people desiring to learn more about Traveling4Health&Retirement's growing user community and health providers may visit Traveling4Health&Retirement at http://www.Traveling4Health.com. Persons or care providers interested in becoming a member with Traveling4Health&Retirement's online community should contact Ilene Little at +1.888.844.1005; Fax: +1.888.844.1005; Skype at Ilene.Little for additional information.