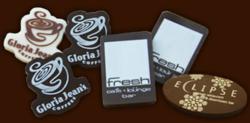 Make a list of important things to do today. At the top of your list, put "eat chocolate." Now, you'll get at least one thing done today."

~Gina Hayes
Wellington, FL (PRWEB) May 09, 2012
Put any company name on everyone's lips with personalized embossed chocolate logos by Chocolate Graphics International. After all, everyone loves chocolate! Logo chocolates are ideal for hotels, product launches, thank you gifts to clients, promotional tools, coffee accompaniments and even cake toppers. People may forget what is said, but they always remember how they felt. Companies will benefit as customers will never forget with this amazing chocolate promotional tool. The sweetest messages customers will ever receive.
Hand-crafted with care from the finest ingredients. Chocolate Graphics' chocolate is individually tailored to feature any special message, corporate logo or design, making it not only unique it its style, but a delightfully delicious treat for the taste buds. Each chocolate has an embossed design and uses a process far more advanced than simply printing on chocolate. Chocolate Graphics international offers a wide range of sizes and shapes to make every project personal.
Managing Director John Taylor comments, "Our clients love the "wow" factor that comes with the product. For business, the branding of a chocolate with a corporate logos, photo or message creates a compelling communication. Who could say no to chocolate?"
"We had already researched what was available in personalized chocolates but Chocolate Graphics® was different, very different. It was the only product with raised printing, the graphics were the brightest and the clearest, with logos that virtually jumped out, it lent itself to small production runs (which is ideal for bespoke products)." - Ted Hames, Regional Master Licensee United Kingdom & Ireland
Chocolate Graphics International is an Australian based company that provides personalized embossed chocolates. These chocolates make ideal gifts for weddings, promotions, the hospitality industry and for everyday occasions. Chocolate Graphics International is a company on the move. Growing from a small cottage based industry in 1996 to a global commercial venture in 2008. Chocolate Graphics International is a private company with its US headquarters in Hendersonville, Tennessee under the leadership of Carol Webster. For more information please call 561-460-4738 or visit us online at http://www.chocolategraphicsus.com/kab.html