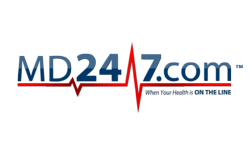 Your 1st appointment is on us!
Tampa, FL (PRWEB) May 09, 2012
The tactics of self proclaimed consumer protection sites Ripoff Report, Scambook and Scam Informer recently resulted in telemedicine specialist MD247 developing a credibility building marketing program. The marketing concept, developed by the MD247 Telemedicine Marketing Team, offers all skeptics the opportunity to use MD247 corporate money to pay for their first non-emergency appointment.
MD247 explains that it believes in the potential life altering outcome its 24/7 telemedicine program will have in both rural and urban frontiers. The belief goes beyond a simple endorsement, with MD247 offering every new program member the opportunity to receive one free medical non-emergency medical appointment. If a new telemedicine program member considers that an average medical appointment can run in excess of $70.00, the provider of supplementary health options is putting forward a sizable investment.
MD247 explains that it would like the "first appointment free" program to serve as a counterweight to the unfounded reports found on consumer "protection" sites like Ripoff Report, Scambook and Scam Informer.
MD247 explains that all parties interested in attaining their free appointment must visit the MD247 telemedicine website at http://www.md247.com to both research, and become a member in the telemedicine program. Becoming a MD247 program member includes one free medical appointment, discounted pharmacy prescription services, discounted vision services and 24/7 access to licensed competent medical professionals.
Largo Florida based MD247.COM (MD247; MD/247; MD 247; M.D.247; MD-247) provides an affordable telemedicine supplement to existing healthcare services. MD247.COM telemedicine program members have unlimited telephone access to a nationwide medical support team, all with just a single phone call to the MD247.COM telemedicine Talk to a Doctor/Talk to a Nurse Hotline. MD247.COM has a virtual platoon of registered nurses, board certified physicians and a support staff available to members for all non-emergency situations. More information about MD247.COM is available online at http://www.md247.com.