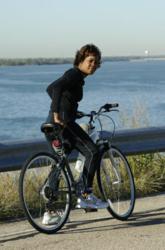 "Empowering People, Changing Lives" - Coach Bridgette Collins
Houston, TX (PRWEB) May 10, 2012
Motivational Speaker, Author and Fitness Guru Bridgette Collins's introduces a fresh thinking for incorporating and sustaining healthier lifestyle habits in the form of a "Gaming Wellness" program. Coach Collins coined the term to captivate her audience through an interactive gaming session on healthy living: mind, body, and spirit. Launching just in time for Mother's day, the program will provide participants with options for applying the changes that are necessary to live healthier in today's instantaneous and demanding world. Wellness Gaming will also include a targeted discussion, where Coach Collins will engage participants and assist them in understanding the concepts and anticipations of some of the newest healthy living strategies on the horizon.
This program stems from Coach Collins's newest released book, "Broken in Plain Sight," which has proven to be a major hit amongst individuals focused on weight loss and healthier living. Readers of this novel-like diet guide gain access to the lives of an array of dynamic characters in the process of healing, as well as picking up healthy recipes and fitness tips along the way.
The dynamic book delves into the struggles of an African American family and their toils with family secrets and public corruption later leading to love, truth, and healing. "Broken in Plain Sight" is only one of Bridgette's book series that all engages readers through real-life turmoil, that are aimed to educate and empower individuals to make their overall health and fitness a priority.