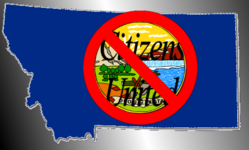 Citizens United may be effectively reversed, right now, within two months, for this 2012 election.
Helena, Montana (PRWEB) May 09, 2012
The Montana Attorney General's office has given permission for a legal brief to be filed with the U.S. Supreme Court that will argue the position that the 11th Amendment to the Constitution forbids the Court from taking jurisdiction and hearing a case involving Montana and Citizens United, the controversial 2010 Court decision that allows for virtually unlimited corporate spending in state elections. (130 S.Ct. 876 2010)
The Eleventh Amendment Movement (TEAM, http://www.11thAmendment.org), a non-partisan political action association based in Hawaii, will present the argument for 11th Amendment state immunity from Federal suits in a friend-of-the-court brief in the current case of American Traditions Partnership vs. Bullock (Montana Attorney General Steve Bullock). That case involves a recent Montana Supreme Court decision that upheld the state's own anti-corruption election finance laws in defiance of the federally mandated Citizens United ruling. Montana's decision has now been petitioned for appeal to the U.S. Supreme Court. The high court has not yet decided whether it will hear the appeal. (U.S. Supreme Court Docket # 11-1179)
"Montana has now given permission to TEAM to raise the 11th Amendment argument, the most central Constitutional issue in this Montana-Citizens United case," said Adam Furgatch, a co-founder of TEAM. "The 11th Amendment says that the Court may only hear cases involving a state government under very specific circumstances, and those circumstances are clearly not present in the Montana case. The Court should refuse to accept the Montana case, and then Montana's anti-corruption election laws will stand and Citizens United will be effectively negated, right here, right now."
Carl Mayer, a prominent New York civil liberties attorney acting as lead counsel for TEAM added, "Though the First Amendment issue was important in the original Citizens United decision, the 11th Amendment issue in this Montana case is now the most fundamental and crucial constitutional consideration. The states have 11th Amendment immunity from Supreme Court power grabbing, in this instance. Montana has the absolute sovereign right to pass and enforce its own election laws, and unless the President or Congress intervenes, the judicial branch has no constitutional authority to come anywhere near this case. Montana's laws should stand."
TEAM's argument will reference previous Court decisions where all five justices who voted for Citizens United in 2010 have also voted repeatedly to uphold 11th Amendment principles in refusing to hear cases similar to the Montana case. Mr. Furgatch explained that, "Justices Roberts, Scalia, Thomas, Alito, and especially Justice Kennedy have all clearly and correctly interpreted the 11th Amendment in other, similar cases to say that the Court is restricted from infringing on a sovereign state's legislative authority. When Montana said 'NO!' to Citizens United, they meant it, and that's where the appeal process ends, at the state level."
The Supreme Court's refusal to accept the Montana case would "also serve as precedent for other states to enforce their existing anti-corruption election laws or to enact similar laws, with some confidence that the Supreme Court will not overturn them," Mayer said.
"Citizens United may be effectively reversed, right now, within two months, for this 2012 election," Mr. Furgatch emphasized. "This is a unique opportunity whereby quick public action can help make this happen, and TEAM's website has an action plan to get this done."
Mr. Furgatch also had high praise for Montana Governor Brian Schweitzer who recently has spoken publicly about Montana's stalwart stance to enforce their election laws. "Governor Schweitzer and Montana have truly taken a leadership role in holding the line against corporations' corrupting influence in elections," he said.
Mr. Furgatch summed up TEAM's efforts, "Enforcing the 11th Amendment to deny the Supreme Court jurisdiction in the Montana case will allow Montana's election laws to stand and effectively reverse Citizens United. It will be a huge blow to those who would profit from unlimited election spending, and be an important step towards getting corrupting money out of politics."
Case Citations from this story:
1. Citizens United v. FEC, 130 S.Ct. 876 (2010)
2. Montana Supreme Court decision: Western Tradition Partnership, Inc. v. Attorney General, ___P.3d___, 363 Mont. 220 (Mont. 2011)
3. Petition for a Writ of Certiorari: American Tradition Partnership, Inc., fka Western Tradition Partnership, Inc., et al., Petitioners v. Steve Bullock, Attorney General of Montana, et al. – U.S. Supreme Court Docket # 11-1179
Contact: Lia Martin: 310-464-6225
Lia(dot)Martin(at)brandigthebranding(dot)com