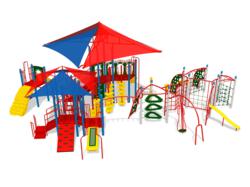 5-12 Custom Play Structure With Cool Shade Sails
Riverside, CA (PRWEB) May 10, 2012
Offering free Commercial Playground Equipment design for schools, parks, homeowners associations and apartments, Pacific Play Systems, a San Diego based commercial playground equipment company, has now expanded its reach for playground equipment design and installation services to Riverside County. With several playground equipment projects underway in Los Angeles, San Bernardino, Riverside, Imperial, San Diego and Orange counties, Pacific Play Systems now offers free design and consultation for projects located in Riverside County and currently has several installations in the planning stages in Riverside and other areas of southern Cal. Later on this summer, Pacific Play Systems is scheduled to start a number of playground equipment projects in Riverside, using its state-of-the-art Playcraft playground equipment. Most of these projects are designed for children, 2-5, 5-12, as well as the 2-12 age group. As explained by the company, a typical playground project designed for the 2-5 or 2-12 age group generally consists of a number of playground slides, several climbing components, play panels, shade, swings, etc. Additionally, the company incorporates more challenging activities, such as advanced climbers, overhead and climbing components such as ring traverses, overhead loops, monkey bars and climbing nets for its 5-12 age group playground structures.
Aside from its recent expansion into the Riverside playground equipment market, Pacific Play Systems is currently completing several playground equipment projects throughout southern California and is scheduled to start a large commercial playground equipment renovation project for a private school in Los Angeles, consisting of the removal of the existing playground equipment installed by another vendor and the replacement with new age-appropriate 2-5 and 5-12 age-group Playcraft playground equipment, custom designed for children with special needs, as well as, free-standing play components, see saws, poured in place rubberized surfacing, bike loops and shade sails. In addition, the company has recently signed several contracts with various property management companies for installing playground equipment at apartments, townhouses and homeowners associations, including two projects in San Bernardino, a project in Coachella Valley and several more for apartment complexes in Los Angeles.
Company Vice President, Elizabeth Bemanian, explains that a typical cycle for planning a commercial playground equipment project such as the ones planned for Riverside may take anywhere from two to six months depending on the desired timeline for each client. The playground equipment design process generally starts out with a site visit where a playground designer from the company meets with the client and gathers information regarding the site, age group, desired activities, budget and project timeline. The company then takes this information and produces a custom design to address the particular needs of that client, along with a detailed cost estimate, all offered at no cost or obligation. Elizabeth Bemanian further explains that once the client is satisfied with their custom playground design and its cost, the equipment can then be ordered. Generally speaking, the lead time for manufacturing the playground equipment runs approximately six weeks and another one to two weeks is needed for installation. However, this timeline may be exceeded for larger projects. Bemanian further elaborates that clients need to allow even more time for projects during the late spring and summertime due to additional demand during these months.
About Pacific Play Systems, Inc.
Located in the northern part of San Diego County, Pacific Play Systems, Inc. specializes in Riverside Playground Equipment design and installation and offers commercial playground equipment, safety surfacing, and installation for parks, schools, preschools, HOAs, military bases, and churches throughout southern Cal, including San Diego, Orange, Riverside, San Bernardino, Imperial, and Los Angeles counties. As a full service commercial playground equipment company, Pacific Play Systems offers its clients a complete package that includes a free evaluation of their existing site facility followed by a custom design at no cost or obligation. Pacific Play Systems holds several construction licenses that allows it to offer its clients a complete turnkey project from design through installation. In addition to its state-of-the-art Playcraft commercial playground equipment, Pacific Play Systems offers a wide variety of shade structures, sports equipment, soft-contained indoor playground equipment, water park equipment, playground safety surfacing and site furnishings.