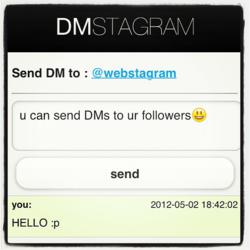 Singapore, 9th May, 2012 (PRWEB) May 10, 2012
Mr. Joe Mio and his team of developers have just hit the headlines by developing the first ever direct messaging tool for users of Instagram. The tool named DM.Stagram has been released on the 1st of May for the use of Instagram users all over world. DM.Stagram is an incredibly useful tool that makes it possible for users to send messages directly to any other Instagram user. This tool is completely free and is presently available as a web based app. Mr. Mio and his team of experts already have the distinction of managing Webstagram, the most acclaimed Instagram web viewer.
Instagram is a free tool for photo sharing that was launched in the app store in October 2011 and has gained immense popularity due to its excellent functionality. Till now, Instagram did not have any private messaging tool. The creation of DM.Stagram is certainly a significant enhancement of Instagram that is expected to receive a rousing response from the market. In order to use this extraordinary tool, one just needs to create an Instagram account and sign in. At present the notifications for the arrival of new messages only gets delivered by emails. However, the app is soon expected to be available for iPhone and Android users.
While using DM.Stagram, the users can send messages to anyone who is following the user. Similarly, he/she can receive messages from users they follow. Talking about the highly creditable feat of his team, Mr. Mio recently said, "I take this opportunity to thank the entire team for their hard work and perseverance. DM.Stagram is expected to revolutionize the application of Instagram". He also added that the application is in its initial stage and several enhancements are about to arrive very soon. Reliable sources have revealed that the initial market response about DM.Stagram has been extremely encouraging so far.
About Mr. Joe Mio: Mr. Joe Mio is the chief developer of the team of experts that has just developed and released DM.Stagram. This is an amazing tool that makes it possible for the Instagram users to share messages amongst themselves.