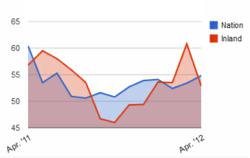 The national Purchasing Managers Index beat analysts' expectations in April while the Inland Empire Index declined sharply from 60.8 in March to 52.9
Riverside, CA (PRWEB) May 14, 2012
With strong numbers in manufacturing, rising costs in China's labor markets and recent White House policies in favor of the "Made in America" blueprint for job creation, the media has brought a lot of attention to a possible manufacturing renaissance on the horizon. But the Department of Labor's disappointing jobs numbers in April and disappointing first quarter 2012 financials for hydraulic OEMs like Sauer Danfoss, whose new orders declined by 20 percent compared to first quarter 2011, the resurgence in manufacturing appears further away than many had predicted. And it's looking even farther for manufacturers in the Golden State with California ranking last in the 'CEO Business Climate' survey released on May 2nd, 2012.
"California seems to be doing everything possible to drive business from the state," said J.P. Donlon, editor of Chief Executive Magazine. CEOs surveyed attributed California's poor ranking to high state taxes and overly stringent regulations. Companies that moved some or all of their operations out of state in 2011 increased 26% over the previous year. Given that Southern California is the nation's largest manufacturing economy, placing last among business climates is a worrisome sign for local manufacturers in Los Angeles and surrounding counties. According to a report from the Institute of Applied Research at California State University San Bernardino, the national Purchasing Managers Index beat analysts' expectations in April while the Inland Empire Index declined sharply from 60.8 in March to to 52.9.
One bright spot in local manufacturing news is Riverside headquartered Western Hydrostatics (http://www.weshyd.com) - a hydraulic parts distribution and repair center for Bosch Rexroth and Sauer Danfoss. When compared to prior year sales, the company's sales increases have averaged 17% for the past 22 months. Since the start of the 2012 calendar year, Western Hydrostatics has recorded their 3rd record breaking sales month and is now predicting the company's highest sales and profitability numbers since opening for business in 1986.
One of the key success factors for Western Hydrostatics' hydraulic service and hydraulic parts business was transitioning from a local, regional customer base to a global marketplace. Just two years ago, the majority of the company's customers were in California, Arizona and Nevada but forward-thinking leadership under the company's CEO, Starke Scott, triggered investments in not only inventory and personnel but also a manufacturing marketing system developed by Los Angeles-based RK Global (http://www.rkglobal.biz). Within two and a half years of partnering with RK Global, Western Hydrostatics has expanded its customer base to 18 countries spanning every continent with the exception of Antarctica. A real game changer for the company, expanding into emerging foreign markets has created exponential growth opportunities.
Torrance headquartered California Manufacturing Technology Consulting (CMTC) recently selected Western Hydrostatics for the Made in California program, which recognizes the contributions of manufacturers in the region and features those companies that have contributed to the growth of the economy, are involved in continuous improvement, strive to create jobs, and grow their businesses. Understanding the global economics of demand and supply in a flat world and recognizing the importance of innovation, Western Hydrostatics is part of a new breed of industrial companies who are hurdling the obstacles facing local businesses and leading a third industrial revolution aimed at bringing manufacturing jobs back to America and Southern California.
1. Starke Scott, Western Hydrostatics, (May 9, 2012)
2. Jack Katzanek, "Manufacturing Index Drops Sharply", The Press-Enterprise (May 1, 2012)
3. Don Lee, "Job Growth Slows again in April", Los Angeles Times (May 4, 2012)
4. Sauer-Danfoss Inc. "Sauer-Danfoss Inc. reports First Quarter 2012 reports", marketwatch.com/story/sauer-danfoss-inc-reports-first-quarter-2012-results-2012-05-02 (May 2, 2012)
5. Sacramento Business Journal, "California ranks dead last in CEO business climate survey", bizjournals.com (May 2, 2012)
6. The Economist, "A third industrial revolution", (Apr 21, 2012)
7. David Conrads, "As Chinese wages rise, US manufacturers head back home" The Christian Science Monitor (May 10, 2012)
About Western Hydrostatics:
In the hydraulics sales & service industry, Western Hydrostatics has emerged as a true solutions provider because they've built their company based on what matters most to customers: immediate problem solving, great product selection, fast turnaround, quality products, attractive pricing and the best customer service in the business. Because Western Hydrostatics operates from the customer point of view, they're uniquely equipped to give you exactly what you need. Read the top 10 reasons why companies choose Western Hydrostatics.