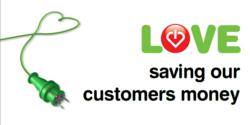 Add the business facebook page and see what you could save http://www.facebook.com/loveenergysavings
Bolton, UK (PRWEB UK) 10 May 2012
Love Energy Savings have launched a social media campaign on Facebook in order to connect with the public and help them save on their home and business electricity and gas bills.
Love Energy Savings have created a business page on Facebook so customers can now learn how to save money whilst being interactive in their social media activity. The business Facebook page is http://www.facebook.com/loveenergysavings. This campaign will help educate members of the public of how to save money in their business and home lives as well as keep them up to date with news from Love Energy Savings.
The Facebook page is managed by Gemma Bailey Marketing Manager at Love Energy Savings.
Gemma Bailey Marketing Manager said "It is important members of the public can connect to Love Energy Savings on all platforms, We are proud to be launching a campaign on Facebook and giving business and home users more ways to access our services and save money."
Love Energy Savings aims to help all clients save money on either Home or Business Energy. They also specialise in helping businesses save money in other areas such as general insurance and telecoms.
Love Energy Savings clients trust them for fast, free and impartial advice on the best possible energy savings. Compare electricity prices with Love Energy Savings and be sure to get cheap gas and cheap electric. Every client that switches there electric and gas bills with Love Energy Savings saves money. Compare business electricity prices now to see what you can save. For more information about Love energy savings please visit http://www.loveenergysavings.com.To speak with an advisor for advice on business electricity call 08000932791.