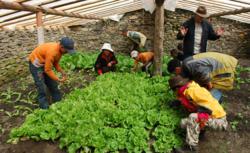 Vegetables from the greenhouse will feed and improve the health of school children and their family members in Tibet.
Boulder, CO (PRWEB) May 10, 2012
A Conscious Journeys (CJ) volunteer group built a greenhouse for 40 Tibetan students in the city of Tagong, located in China's western Sichuan Province. The students are part of a school for orphaned and impoverished children from across the plateau. The school was created and funded by the NGO Tibetan Village Project, which receives the proceeds from Conscious Journeys volunteer trips.
"Malnutrition among Tibetan children is rampant and has resulted in startling rates of stunted growth," Conscious Journeys explains. "The greenhouse is about 15 x 20 and uses metal tubes and wood for the beams; mud, stone and wood for the structure; heavy duty plastic for the cover and fabric blanket for basic the insulation."
"The greenhouse provides food, promotes healthier diet and generates income with surplus vegetables from high yield season. The greenhouse extends the growing season from four months to ten months and produces vegetables. Vegetables from the greenhouse will feed and improve the health of school children and their family members in Tibet."
Prior to the project, CJ worked with school staff to determine whether or not a greenhouse could be built and maintained successfully. They examined soil quality, water supply, and talked to staff and students about tending the vegetables.
The group of volunteers covered their own travel expenses to the city, and raised money from friends and families to cover the costs of greenhouse construction materials. The staff of Conscious Journeys located locals in the village to hire for construction labor. This furthered CJ's goal of supporting local communities and providing education, sustenance, and economic opportunities to impoverished Tibetans. The volunteer group got to see the beautiful landscape of western Sichuan and learn about Tibetan culture through local communities.
"Volunteers felt good knowing that they made differences in the lives of school children and had better travel experiences by connecting with locals."
Conscious Journeys is the volun-tourism program of the NGO Tibetan Village Project. Tours focus on providing services to local communities, practicing sustainable travel, supporting local businesses and connecting in a positive and meaningful way with Tibetan communities across the plateau.