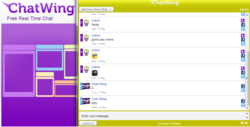 Cambridge, MA (PRWEB) May 09, 2012
Corporate blogging is now considered one of the major ways of relaying information online, based on thousands of company websites created. To survive online competition, a company blog must be able to release an efficient marketing campaign rather than stick to beautiful content. This has been one of the major goals of Chatwing's developers. The latest version of the Chatwing chatrooms is now ready to help corporate bloggers reach their goal.
It is evident that people tend to talk about a lot of things in the Internet. Through providing an efficient medium of website chat, Chatwing is branching out to several communities. Many bloggers prefer this chat application because it is versatile, free, and very easy to use. Adding to that, Chatwing has a relaxing purple color that indicates pure leisure chatting.
For corporate bloggers, chat boxes are gold mines. This is because of the fact that a chat box has the potential to increase a blog's activity. "Activity is a blog's life. Take it out and you'll have an empty web page in a nutshell. This is the time where Chatwing evens out the scale. It creates a vibrant online atmosphere for a blog's visitors. In this way, they will keep coming back and the blogger can communicate with them in a regular basis," Says Michael Diamond, one of Chatwing's elite developers.
Chatwing's free chat box has also appealed to a lot of bloggers because of Facebook integration. Through this, people can now log in using their Facebook accounts. This makes information exchange easier. Despite the integration of such heavy social networking site, Chatwing can still maintain its connection speed. This simply proves that its developers are working round the clock to create an efficient service for everyone.
Bloggers also love Chatwing's easy installation mechanism. To install Chatwing, the user must first register his blog or website's domain name. After that, he can now customize the chat widget. Height, width, color, and title are the factors that can be edited. After completing everything, Chatwing will now generate the HTML code and the user can retrieve it. These strings of processes can be completed within seconds.
About Chatwing.com
Chatwing.com has developed live chat software for websites and blogs. It caters to different online communities due to its high rate of connectivity. Everyone can create a customizable live shout box feature in 1 minute or less. Users have the ability to customize the size, color, and fonts of the shout box. The ability to chat via social media accounts such as Facebook and Twitter enable Chatwing to offer a personal and unique real-time experience to all sites. Chatwing is 100% free and very easy to use.