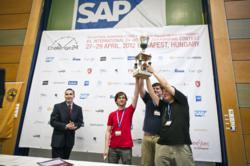 To win this competition you have to be a great programmer with an excellent knowledge of mathematics.
Hungary, Budapest (PRWEB) May 15, 2012
Young programmers have arrived to Budapest, capitol of Hungary over the weekend to participate the 12th international 24-hour programming contest, Challenge24. As its name says, this contest runs for 24 hours, and participants have to prove their skills in programming, mathematics and physics. Among this year's task, the young programmers had to write artificial intelligence for a strategic game and an algorithm to play air hockey on a battlefield of 30 combatants.
Challenge24 is watched closely by giants like SAP, Google and Facebook, since the world's most talented programmers from the United States to South-Africa gather together for the event. The contestants can use any tool or computer but internet to solve the challenges, and they are not allowed to communicate with the world outside.
The winner of this year is the Russian Havka-papstvo team, Egor Kulikov, Pavel Mavrin and Petr Mitrichev. Mitrichev is considered as the world's best programmer by TopCoder internet community. The South-African TheTeddyborg team (Bruce Merry, Carl Hultquist and Nicholas Pilkington) finished on second place, while on third place the Czech and Slovakian team Charles_University_Legion (Filip Hlasek, Jakub Zika, Michal Danilak) finished.
The award of the winners is a sterling silver ring, designed by the Hungarian graphics artist Janos Flohr. The jewelry is not only a piece of art, it can open the doors of the world's leading technology companies for its owners.
Sponsors of the competition
Main sponsor:
SAP Hungary
Diamond sponsors:
Base4Innovation
Fornax
Google
iFlow
3D modeling partner:
Graphisoft
Innovation partner:
iGo
Gold sponsor:
Facebook
Talent partner:
Prezi.com
Silver sponsors:
Continental
G Data
LogMeIn
Hungarian Telekom
Supporters:
Fiio
Tresorium
Facecontrol