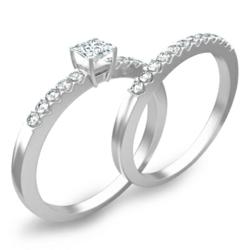 At JewelOcean, we strive to provide our customers with cheap wedding rings and engagement rings.
Cockeysville, MD (PRWEB) May 10, 2012
When it comes to purchasing engagement rings, there is a standard saying for men, which dictates spending three month salary for that dream engagement ring. However in today's uncertain economic climate, just how many men can spare three month's salary to purchase the wedding ring for their significant other. JewelOcean.com is trying to make the whole experience easy for men, with its new cheap engagement rings collection, which showcases beautiful designed engagement rings at inexpensive and affordable prices.
The new diamond rings collection showcases beautiful engagement rings and wedding sets, which start on sale from only $299.99 onward. The entire engagement rings collection is made with real natural diamonds and on real solid gold. "Many of our customers always call us to ask if these rings are made with real diamonds, and if they are made in real gold. Most of them are very surprised to find such inexpensive prices on engagement rings," says Mathew Bruno, manager at JewelOcean.com.
However, providing cheap wedding rings is the entire point of the new diamond rings collection at JewelOcean. The collection showcases diamond engagement rings, such as 1/4 carat princess cut solitaire ring which starts on sale from only $299.99, to 1 carat diamond engagement ring which is available from only $799. For customers who are looking for wedding sets, they would also find very attractive deals. The JewelOcean collection has 1 carat diamond bridal set, which is available on sale from only $899. For customers looking for three stone engagement rings, the affordable ring collection has a beautiful 1 carat princess cut three stone engagement ring which is available on sale for only $799.
The collection however has many designs which are available on limited quantity. So customers, who are looking for affordable engagement rings, should pay close attention to the collection, as many styles might be sold out very shortly. One example is the 2 carat discount wedding ring set, which is available on sale at only $999. The set is one of the hottest selling styles on the collection, and due to its inexpensive price, it would be sold out very fast.
JewelOcean is a leading online wedding rings retailer. The company's strength is in providing cheap wedding rings and bridal sets to the customers while providing them with great customer service. Most of the diamond engagement rings sold by JewelOcean.com can be fully customized to the customer's requirement and their choice. For a complete collection cheap and affordable wedding rings, please visit JewelOcean.com website.