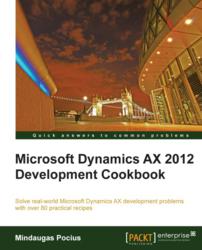 Solve real-world Microsoft Dynamics AX development problems with over 80 practical recipes
Birmingham, United Kingdom (PRWEB) May 10, 2012
Packt is pleased to announce the publication of Microsoft Dynamics AX 2012 Development Cookbook, an extensive guide, packed with over 80 immediate recipes which focus on the modifications of major Dynamics AX modules. Written by Mindaugas Pocius, this cookbook enables Dynamics AX developers to use the new Dynamics AX programming improvements in a variety of Dynamics AX modules.
About the Author:
Mindaugas Pocius, a recognized Microsoft Certified Professional for Dynamics AX is also one of the leading experts in Microsoft Dynamics AX. Delivering Dynamics AX Development, finance and other training across the world and having started the IT consultant career, he is a Certified Professional in major areas such as Financials, trade & logistics, configuration & installation and project Management.
Microsoft Dynamics is an enterprise resource planning application and customer relationship management software applications that are delivered through a network of reselling partners who provide specialized services.
Microsoft Dynamics AX 2012 Development Cookbook is a practical cookbook, designed to demonstrate advanced development techniques for exploring data manipulation concepts in Dynamics AX. With the creation of custom lookups using AOT forms and generating them dynamically from the X++ code, readers will be able to enhance their applications by using advanced form controls in order to create various Microsoft office documents for exporting/importing business data for further analysis.
After reading this book, readers will not only be able to create and manage purchase and sales orders from code, but also create a custom electronic payment format and process a vendor payment. It will help Dynamics AX developers to go beyond the basics of Dynamics AX programming and implement these to learn it's functional aspects.
Packt Publishing has also released and is due to publish other Microsoft Dynamics titles:
Microsoft Dynamics CRM 2011 New Features (published)
Microsoft Dynamics AX 2009 Administration (published)
Microsoft Dynamics CRM 2011 Reporting and Business Intelligence (due)
All Microsoft Dynamics are Published by Packt Enterprise. Packt Enterprise is a publishing division of Packt Publishing designed to serve the information needs of IT Professionals in the Enterprise space. Packt Enterprise also publishes on Microsoft, IBM, Oracle, Citrix, Java, Amazon, Google and SAP technologies.