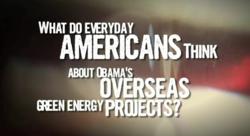 "The simple truth is President Obama wasted billions in taxpayer dollars on "green energy" boondoggles in foreign countries."
Arlington, VA (PRWEB) May 09, 2012
Following the release of AFP's ad "Wasteful Spending" and responses from the Obama campaign attempting to defend his giveaway of $2.3 billion American tax dollars to foreign "green energy" projects, the group today released a new ad showing Americans express their dismay at the President's actions.
"I just don't get it," and "We need to focus on taking care of America's problems first," are just a few of the responses Americans had when AFP explained that President Obama had sent billions to "green energy" companies overseas.
After Americans for Prosperity's release of a $6.1 million TV ad buy two weeks ago, President Obama and his re-election campaign have attacked AFP numerous times and AFP has responded by saying there has been zero substantive refutation of the facts.
AFP President Tim Phillips said, "Fisker got half a billion taxpayer dollars to build luxury electric cars in Finland, with the promise that soon they would start building a cheaper version in Delaware. But two years later, Fisker has fired most of the Delaware workers, and now there are only a few caretakers at the plant.
"Solar company SunPower was given a $1.2 billion federal loan guarantee a few weeks after announcing it was building a new plant in Mexico. Obama justifies this by saying SunPower also had a plant in California. But what he doesn't tell you, is that SunPower is majority-owned by the French oil company Total. More tax dollars going overseas to support a 'green energy' ideology.
"Make no mistake about it; AFP will not be deterred from Obama's baseless attacks. AFP will continue to educate citizens about Obama's failed green energy ideology and wasteful spending."
Americans for Prosperity (AFP) is a nationwide organization of citizen-leaders committed to advancing every individual's right to economic freedom and opportunity. AFP believes reducing the size and intrusiveness of government is the best way to promote individual productivity and prosperity for all Americans. Americans for Prosperity does not support or oppose candidates for public office. For more information, visit http://www.americansforprosperity.org
###