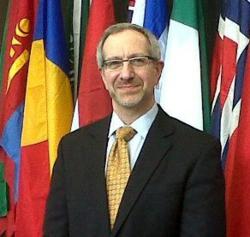 You have only to see Perry in front of an audience to see how quickly and effortlessly he engages them and wins respect for his knowledge and judgment."

-- Brian Lee Crowley, Ph.D., Managing Director, Macdonald-Laurier Institute, Ottawa, Canada
Portland, Maine (PRWEB) May 09, 2012
Perry B. Newman, founder and president of international business consulting firm Atlantica Group LLC, announces the launch of a book promotion and speaking tour of N. America, beginning in September, 2012.
The tour will feature discussions of Newman's new book, The 10 Commandments of International Business, as well as explore other business and policy issues, including US - Canada cross-border business, the Israeli economic "start-up nation" phenomenon, and international economic strategies that work.
Newman's experience, bio and additional topics for speaking engagements appear on the newly-launched website, http://www.perrybnewman.com.
"The early success of "The Ten Commandments" has been gratifying," said Newman. "A substantial number of copies have been sold across the United States and Canada to exporters, government agencies and organizations with an export development mission. These sales have generated interest among a wider range of entrepreneurs, as well.
Atlantica Group LLC, the company Newman founded in 2000, continues to serve clients and develop projects in the United States, Canada, Israel, Europe and India. Projects involving new exporters and strategic market development remain a core focus of the company's efforts. "We're delighted to continue serving our clients in their international market development, research and strategic efforts," Newman continued. In fact, strong interest in the book among our clients is one of the inspirations behind this book and speaking tour."
Newman's work as a consultant, author, speaker and opinion leader has earned him recognition in Europe, Israel and N. America.
For more information on booking Perry B. Newman for a speaking engagement or to arrange a stop on the book tour, contact Atlantica Group LLC on (207) 553-9228 or via email. Scheduling for the tour will begin soon.