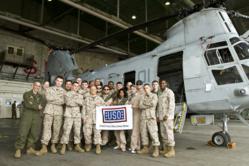 Arlington, VA (PRWEB) May 09, 2012
Twitter Pitch: Johnny Galecki, Steve Molaro, @ReginaKing @ben_mckenzie and @cudlitz volunteer w/ @the_USO and visit troops in Japan!
The USO pays tribute to primetime by deploying Johnny Galecki and Steven Molaro of CBS' "The Big Bang Theory" and TNT "Southland" cast members Michael Cudlitz, Regina King and Ben McKenzie to Japan on their first-ever USO/Armed Forces Entertainment tour. Designed to uplift, inspire and extend America's thanks to soldiers, sailors, airmen, Marines and Reservists and their families, the Pacific adventure officially kicked off on May 4 and will conclude May 12. The tour consists of a series of USO meet & greets, base visits and unit tours.
Dedicated to supporting and enhancing the lives of America's Armed Forces, the USO kicked off its 2012 Military Families Campaign on March 26. In order to heighten awareness of family themed USO programs, the campaign highlights such programs as USO tours, the United Through Reading® Military Program, USO Warrior and Family Care and Operation Phone Home®, among others.
DETAILS:

Just days into their seven-day USO tour, the group has lifted the spirits of countless sailors, airmen and their families stationed at Kadena Air Base and White Beach Naval Base.
Among the installations the group will visit later in the week are Camp Shields, Marine Corps Air Station Futenma, Camp Schwab, Camp Hansen, Camp Foster, Camp Kure Akizuki and Marine Corps Air Station Iwakuni.
Jam-packed with military-themed activities, the tour includes a visit to the Kadena Hospital, meals with service members, a trip to USO Kadena, an up-close look at combat air craft and a special visit to a military high school to talk with young drama students, among many other eye-opening opportunities.
As part of the 7-day visit to the Pacific, the group will also extend their heartfelt gratitude, pose for photos, sign autographs and share insight into the world of acting.
All equally touched by the service and sacrifice of today's troops and their families, Galecki, King and McKenzie possess personal ties to the military. Galecki was born in Belgium, where his father was stationed while serving in the U.S. Air Force, and King, whose father was a Private First Class in the Korean War and whose stepfather was a Paratrooper in the Vietnam War, also has a close cousin, who is a First Sergeant and has served in Iraq and Afghanistan. Meanwhile, McKenzie also has a cousin currently serving in the U.S. armed forces.
Johnny Galecki stars as 'Leonard Hofstadter' on "The Big Bang Theory" and is also known to TV audiences as 'David' from the long-running comedy series "Roseanne"
Steven Molaro is executive producer of "The Big Bang Theory" and former staff writer of Nickelodeon's "Drake and Josh" and "iCarly"
Michael Cudlitz stars as 'Officer John Cooper' on "Southland" and has also appeared in box such office hits "The Negotiator," "Surrogates" and "The River Runs Through It" as well as HBO's Emmy®-winning miniseries "Band of Brothers."
Regina King stars as 'Detective Lydia Adams' on "Southland" and is also recognized for her roles in "Ray," "Jerry Maguire" and "Enemy of the State," among many others
Ben McKenzie stars as 'Officer Ben Sherman' on "Southland" and is also known for his lead role in the 2003-2007 hit "The O.C."
Centered-around a group of brilliant, yet socially awkward scientists and a free-spirited waitress who moves in next door, "The Big Bang Theory" airs Thursdays at 8 pm EST/7 pm CT on CBS. The fifth season finale will air on May 10.
Shot on location in the streets of Los Angeles, "Southland" premiered in 2009 and provides a look inside the lives of Los Angeles detectives and beat cops. The show airs Tuesdays at 10 pm EST/9 p.m. CT on TNT, and just wrapped up its fourth season.
QUOTES:
Attributed to Johnny Galecki:
"The USO tour has been an incredible and eye-opening experience. It's been a true honor to express our gratitude personally – not only with the men and women in service, but with their spouses and children who also sacrifice so much for our country. Those of us in the entertainment industry understand the profound effect of collaboration – the importance of each and every hand involved. It's been an amazing opportunity to thank so many in our armed services face-to-face."
Attributed to Steven Molaro:
"The opportunity to meet all of the military personnel and their families has been a joy and an honor. While we've gotten to see so many amazing things during our stay here in Japan, I realized the highlight has been simply getting to thank everyone for their invaluable service to our country. It's obvious to all of us involved, this is a trip we will never forget."
Attributed to Michael Cudlitz:
"Every handshake and every smile is a crystal clear reminder of how important the USO's work is. Thank you!"
Attributed to Regina King:
"Being in Japan with the USO and seeing so many faces light up by our visit forces you to see the importance of these tours. These trips aren't about taking a break from the set or even traveling to a foreign land – they are about showing our troops and their families that people genuinely care about them and letting them know that they aren't forgotten."
Attributed to Ben McKenzie:
"My grandfather was in the Navy and was out here in the Pacific and my grandmother also performed in several USO shows in WWII and with my grandfather's passing last year it meant a lot to me to come out here and meet the troops to thank them for their service to our country."
MULTIMEDIA:
USO Tour Photos: http://bit.ly/Jc7xpU
USO Fact Sheet: http://bit.ly/yaebvo
USO Logo: https://uso.box.net/shared/6q5cq0siij
AFE Logo: http://bit.ly/bCGwld
OTHER WEB SITES:
http://www.uso.org
http://www.armedforcesentertainment.com
# # #
About the USO
The USO (United Service Organizations) lifts the spirits of America's troops and their families millions of times each year at hundreds of places worldwide. We provide a touch of home through centers at airports and military bases in the U.S. and abroad, top quality entertainment and innovative programs and services. We also provide critical support to those who need us most, including forward-deployed troops, military families, wounded warriors and their families and the families of the fallen.
The USO is a private, nonprofit organization, not a government agency. We rely on the generosity of our volunteers and donors. In addition to individual donors and corporate sponsors, the USO is supported by President's Circle Partners: American Airlines, AT&T, Clear Channel, Kangaroo Express, Kroger, Lowe's, Northrop Grumman Corporation, Procter & Gamble, and TriWest Healthcare Alliance and Worldwide Strategic Partners: BAE Systems, The Boeing Company, The Coca-Cola Company, Lockheed Martin, and Microsoft Corporation. We are also supported through the United Way and Combined Federal Campaign (CFC-11381). To join us in this patriotic mission, and to learn more about the USO, please visit uso.org.