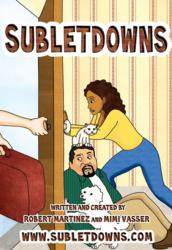 One Couple, living with Multiple Personalities
Los Angeles, CA (PRWEB) May 09, 2012
"Subletdowns"" is a hilariously inappropriate close to Reality Web-series about a couple Ruben and Jamie who come up with the brilliant idea to sublet the extra room in their apartment to various eccentric individuals from all walks of life. The supporting comedic characters are the couple's best friends Bill and Tiffany. This Colorful Cast of Characters that is a part of this series showcase, a mirror that has a crazy reflection on real life that's only reaction is to make you laugh. This New Comedy is Shot in the style of Modern Family and The Office but is by no means, suitable for Primetime Network Television viewing.
Ruben and Jamie, the stars of "Subletdowns" are also the show's writers and creators Robert Martinez and Mimi Vasser who are both apart of the Hollywood Hustle and Quest for Stardom. In the series, The Unemployed Actor Ruben is played by Robert M. Martinez who is a seasoned comic who has been around L.A. for a while with an Awesome Resume that boasts stand-up comedy gigs like Comedy Central's Laugh Riots, SiTV's Latino Laugh Festival, TV credits that include ER, Jimmy Kimmel LIVE and a finalist on MTV infamous YO Mama. Jamie who in the series plays the lead of overbearing Breadwinner of the Household is played by co-creator Mimi Vasser who has quite an impressive resume herself in various supporting Film roles, Television, Theater and Dance Leads. The Optimistically horny supporting character of Bill is played by Chris Labrum is a Los Angeles Theatre, Film Commercial and Improv Actor. Ariel Johns stars as "The Best Friend" Tiffany. Johns a SAG Actress has an eclectic resume of acting credits which include Film, Television and different pilots on the web and a trailer for the 2010 L.A. Film Festival, interesting fact, she is fluent in French ooh Lala! There are also other tremendous talents with roles throughout the series; you will have to tune-in to figure out which one is your favorite character? You may want to look out for or even recognize some of these actors & actresses as their stocks are all on the rise in Hollywood at the moment.
Subletdowns has been Created and produced by Honey Suckle Drive Productions http://www.honeysuckledriveprod.com Also constructed and developed by Robert Martinez and Mimi Vasser
Today, May 9th, is The Series debut, please tune into this contentious comedy that doesn't conform to the usual television depiction of the stereotypical Hollywood couple. Subletdowns is a reflection on what society really is today, a screwed up Hodge podge of people from different races, backgrounds, countries, and sexual orientations all having to live and deal with each other while trying to make it in life. This is not for the politically correct or those without a sense of humor. Because life is not politically correct and isn't worth living without comedy.
http://www.Subletdowns.com
http://www.Twitter.com/subletdowns
http://www.Facebook.com/subletdowns
http://youtube.com/subletdowns
The 1st episode is scheduled to air on Wednesday May 9th- then every Wednesday in May ending with the final episode on Wednesday May 30th.
Episode 1: May 9th
Episode 2: May 16th
Episode 3: May 23rd
Episode 4: May 30th
For Press and Questions Please contact Nicole Jones of Elite Media Inc. http://www.EliteMediacorp.com