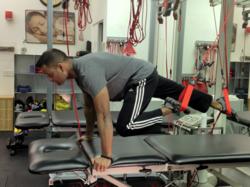 New York, NY (PRWEB) May 11, 2012
After his knee surgery, Mark assumed he wouldn't be playing volleyball anytime soon. At Manhattan Physical Therapy, not only did we promise Mark that he would be playing volleyball, but we also told him that we could make him an even better player than before. Sports rehabilitation using the Redcord technique has made recovering from knee surgery simpler, faster and more effective. We're able to "unload" Mark's joints and concentrate on the weaknesses he has all throughout his body. Strengthening these weaknesses and increasing flexibility has become part of his ongoing training regimen. What is Redcord? And how does Manhattan Physical Therapy get you a step above your competition?
Redcord is the most direct and therefore the easiest, most efficient method for reteaching muscle coordination and alleviating pain. After an injury, the body's natural pain-response mechanisms shut certain muscle groups down, causing an imbalance in the muscle chains which interconnect the entire structure of the body. By inducing high levels of neuromuscular stimulation, Redcord challenges your muscles and changes the way your brain and your muscles communicate with each other to restore your body's original balance.
Here's what Joseph Simon, the owner of Manhattan Physical Therapy, had to say: "As a physical therapist, I've been trained to identify improper body mechanics. Redcord's suspension system has taken my practice to the next level by allowing me to target weakened areas of the body with extraordinary precision. As a result, my patients experience faster, more effective healing, and complete pain relief."
Since Redcord is designed to increase in intensity as you progress, It's ideal for training after an injury. In fact, the USA Olympic team is currently using it to train for events. Manhattan Physical Therapy's revolutionary treatment and training program, Fitness Therapy Training Systems has been proven to seamlessly take patients from rehabilitation to fitness regimens and even sports performance training.
For further information, call Manhattan Physical Therapy at 800-754-0488 or email manhattanphysicaltherapy(at)gmail(dot)com.