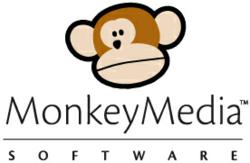 "It's an honour to be part of the on-going conversation about growing catering sales," says Donna Kearns.
(PRWEB) May 09, 2012
MonkeyMedia Software, a provider of complete catering solutions for multi-unit restaurant operators, is pleased to announce the winners of its "45 Killer Catering Marketing Tactics" webinar that took place in March 2012.
Attendees were encouraged to submit ideas for new marketing tactics aimed at driving catering business to their respective organizations. Contest submissions included everything from direct mail campaigns and community networking, to social media promotions and rewards programs, and winners were selected based on their creativity, originality, and industry effectiveness.
The two winners each receive an onsite Catering Consultation with a member of the MonkeyMedia Software Professional Services team for their organization. Each prize is valued at $10,000.
"We got some great tips on catering from the webinar, and we are excited to have won the contest! Pita Pit Canada is looking forward to the onsite Catering consultation from MonkeyMedia Software", says Marina Leos, Director of Special Projects for Pita Pit Canada.
"I was thrilled to learn that my ideas submitted to MonkeyMedia Software were chosen as one of the winners. It's an honour to be part of the on-going conversation about growing catering sales," says Donna Kearns, Regional Marketing Manager for a quick-service Italian restaurant chain.
"45 Killer Catering Marketing Tactics" is the latest in a series of quarterly webinars held by MonkeyMedia Software, as part of giving back to the catering community, and bringing peers together to share ideas for best practices.
About MonkeyMedia Software
MonkeyMedia Software has developed The Get Catering and Grow Sales!™ Series consisting of strategy, education and software services specifically designed to drive catering sales in the multi-unit restaurant environment. Working closely with each customer's executive team, MonkeyMedia Software develops catering strategies, operational programs and provides software solutions to help drive successful catering revenue channels for multi-unit restaurant operators including Einstein Bros. Bagels, Bennigan's, Ruby Tuesday, Noah's Bagels, On The Border, Boloco, Go Roma, Boudin Bakeries and others. MonkeyMedia Software solutions feature a complete front-to-back system to manage sales, production and supply chain, powerful reporting for real-time visibility and results-based decision-making, a 100% web-based platform that is configured to fit a unique business process and easy integration with current web and accounting systems. For more information on MonkeyMedia Software, visit http://www.monkeymediasoftware.com.
Contact:
Danielle Wolff, Head of Sales & Marketing
MonkeyMedia Software
danielle(at)monkeymediasoftware(dot)com | 604.215.2163 x117