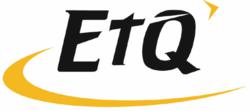 This webinar will cover the key areas where Quality and EHS solutions can serve as a complementary layer to an SAP implementation
Farmingdale, NY (PRWEB) May 09, 2012
EtQ today announced that it will present a webinar, titled "Interfacing Third-party Quality and EHS Solutions with SAP® Applications" on Wed., May 23 at 1:00 p.m. EDT.
The webinar will be hosted by SAPinsider and led by Morgan Palmer, chief technology officer, EtQ. It will look into four scenarios where third-party Quality and Environmental, Health and Safety (EHS) management solutions can interface with SAP applications, including:

The SAP ERP Human Capital Management (SAP ERP HCM) solution, linked to Quality and EHS injury/illness reporting
The SAP ERP application, linked to Quality Nonconformance and Corrective Action
The SAP Customer Relationship Management (SAP CRM) application, linked to risk-based Complaint Handling in Quality Management
SAP NetWeaver® Master Data Management, linked to Quality and EHS data fields
"Oftentimes, organizations that use SAP solutions for their manufacturing operations will also interface a third-party Quality or EHS solution to manage the quality assurance associated with SAP transactions," stated EtQ's Morgan Palmer. "This webinar will cover the key areas where Quality and EHS solutions can serve as a complementary layer to an SAP implementation, and will look into the available technologies and best practices for interfacing Quality and EHS solutions with SAP applications."
For more information or to register for this free webinar, go to http://www.etq.com/webinar.
Celebrating 20 Years of Excellence
Founded on March 4, 1992 by former lead auditors of Underwriters Laboratories, EtQ has always had a unique knowledge of Quality, Environmental Health and Safety (EHS) and FDA Compliance processes, and strives to make overall quality operations and management systems better for businesses. This year, EtQ celebrates 20 years of excellence and continues to be the leading Quality, EHS and Compliance solution provider for identifying, mitigating and preventing high-risk events through integration, automation and collaboration. EtQ encompasses a wide variety of industries, providing solutions for Quality, Food and Beverage, EHS, Aviation and Life Sciences. EtQ uses best in class integrated modules and enterprise application integration to manage and measure Quality, EHS and FDA Compliance processes and execute organizational change. EtQ's solution, Reliance, is an enterprise suite of modules designed to foster operational excellence in businesses with modules and utilities such as Risk Management, CAPA, Document Control, Employee Training, Supplier Rating, FMEA, Customer Complaints, Audits, and many more. EtQ has been providing software solutions to a variety of markets for 20 years. For more information, please visit http://www.etq.com.
# # #
EtQ is a trademark of EtQ Management Consultants, Inc. SAP, SAP NetWeaver and all SAP logos are trademarks or registered trademarks of SAP AG in Germany and in several other countries. All other product and service names mentioned herein are the trademarks of their respective owners.