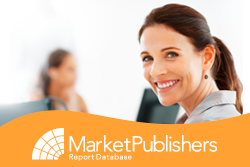 London, UK (PRWEB) May 09, 2012
Traditionally, private labels were developed by grocery retailers in Russia. However, with the development of the retail industry in the country, non-grocery retail operators have become involved in the private label market by launching their own brands.
Despite active development of private labels, Russian consumers are vaguely aware of the attractiveness of chains' own brands. It is especially observable in the case of private labels that are not associated with the chain's banner.
New market research report "Private Label in Russia 2012. Market Analysis and Development Forecasts for 2012-2014" prepared by PMR has been recently published by Market Publishers Ltd.
Report Details:
Title: Private Label in Russia 2012. Market Analysis and Development Forecasts for 2012-2014
Published: April, 2012
Pages: 123
Price: US$ 2,800
http://marketpublishers.com/report/consumers_goods/retailing/private_label_in_russia_2012_market_analysis_n_development_forecasts_4_2012_2014.html
The report offers comprehensive analysis of the private label market in Russia in 2007-2011 with development forecasts for the years 2012-2014.
Report Scope:

database of around 5,500 private label products, based on the data from 17 retail grocery store chains in the Russian Federation; the description of each product includes its category, retail price in both RUB and USD, weight/size per packet, private label name, its distributor chain, as well as the full name of the manufacturer;
comparative analysis of the prices of selected private label products;
value of sales for private labels of food retailers in Russia with development forecasts to 2014;
trends on the private label market and factors impacting its growth;
whole chapter on the production of private labels;
profiles of top players and their private label programme;
new businesses on the private label market;
current development forecasts.
Report Contents:
I. Methodology
II. Executive Summary
III. Overall Socioeconomic Situation of Russia
IV. Overview of the Retail Market
V. Value of Private Label Market
VI. Overview of Private Label Offer by Store Format and Price Segment
VII. Overview of Private Label Market – Trends
VIII. Consumer Attitudes Towards Private Labels
IX. Production of Private Labels
X. Profiles of Selected Retailers Offering Private Labels
XI. Price Positioning of Retailers' Private Labels
XII. List of Graphs
XIII. List of Tables
XIV. About PMR
XV. Contact PMR
More new market research reports by the publisher can be found at PMR page.