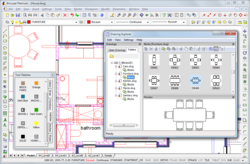 An intermediate upgrade with a major impact for its users. Several new features are added in this upgrade
Merrimack (PRWEB) May 09, 2012
Bricsys today announces the release of Bricscad 12.2.5, an intermediate upgrade with a major impact for its users. Several new features are added in this upgrade.
The long awaited dockable TOOLPALETTES functionality is now added for elements of the Block Explorer, the Hatch Pattern Palette and the Customize Dialog.
The new PUBLISH command allows to configure, execute, save and reuse batch plot sessions and the PUBLISHALLSHEETS setting is also added.
For layer management the LAYER EXPLORER is extended for layouts: columns were added for ViewPort Color, -Linetype, -Lineweight and -Plot Style. LAYER FILTERS now use expressions and layer properties to filter out sets of layers.
Also the Drawing Explorer has several new improvements: reduced footprint of the folder tree, blocks from unopened drawings in the Folders view can be browsed and inserted by double clicking them in the block overview and Drawing Explorer Options were added to configure this block insertion.
This new upgrade contains more than 80 other improvements and fixes, while for application developers another 40 improvements are added.
On average, Bricsys makes new updates for Bricscad available every three weeks, containing solutions for users support requests and fixes. With each update a release report is published with detailed information.
Users with a Bricscad V12 license can read the full release notes and download this major 12.2.5 upgrade free of charge at http://www.bricsys.com/en_INTL/bricscad/index.jsp.
About Bricsys
Through a network of 70 offices on four continents, Bricsys is a global provider of engineering software. Its product portfolio consists of Bricscad design software, Vondle extended SaaS platform, and modeling and constraint solving components technology.
Bricscad is the powerful alternative CAD platform that enables .dwg-based applications to serve the growing markets of AEC, mechanical design, GIS, and civil engineering.
Bricsys products are available in 17 languages, with more languages in development. Every month, the company transparently reports to its customers the status and development of its software products. Wherever they are around the globe and around the clock, customers can communicate support requests directly to the Bricsys support team.
Bricsys is a founding member of the Open Design Alliance and thereby contributes to interoperability in the engineering industry.
For more information about Bricsys, contact us through http://www.bricsys.com.