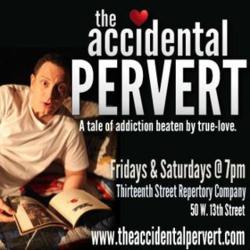 "One of those hidden gems of New York theatre." - Ticket News
New York, NY (PRWEB) May 11, 2012
Comedian Andrew Goffman loves teachers. To prove it, he is celebrating Teacher Appreciation Week (May 7-11) by offering free T-shirts from his funny show The Accidental Pervert to anyone with a valid teacher's identification card who attends any Friday or Saturday performance in May at The Thirteenth Street Repertory Company, 50 W 13th Street, New York NY 10011.
"My teachers meant so much to me growing up", says Goffman. "I even mention one of them in my show."
Andrew Goffman has been performing his critically acclaimed show to sold-out crowds since it opened three years ago. The autobiographical play has been called "perfectly candid and outrageous" by the Washington Square News.
"I wish I could go back to the teachers who helped me become the person I am today and do something for them, but many of them are retired or not with us anymore. So this is a small gesture of appreciation to all those who are so good to our children... because they deserve it."
Teacher Appreciation Week is a time to honor educators and recognize the lasting efforts they make for our children. It is observed from May 7 through May 11, including National Teacher Day on May 8.
All teachers need to do is buy tickets for The Accidental Pervert from the website for any performance in May. At the box office on the night of the show, just present your teacher identification card to redeem your free T-shirt.