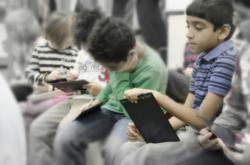 Any time you can get kids to be excited and have fun at school, it's a good thing.
Kent, Ohio (PRWEB) May 09, 2012
Paperless Boogie Board eWriters could be coming to a school near you soon. Following a highly successful pilot program at St. Richard Elementary School in Edmonton, Alberta, Canada, Boogie Board eWriters are becoming increasingly recognized by schools in Canada, and across the globe, for their paper/cost savings and educational benefits.
"During the 2010-11 school year, Boogie Board eWriters were used daily in place of paper to complete a wide variety of activities, including handwriting practice, completing spelling tests, solving complex math equations and drafting rough copy for essays," said St. Richard's principal Jeff Fillion. "Substituting paper with Boogie Board eWriters for nearly every writing or drawing activity in our classrooms resulted in a whopping 40% reduction in paper consumption and photocopy costs and allowed the students to realize their goal of transforming St. Richard's into a 21st Century Learning Community. As an added bonus, the kids find them fun to use, which increases their engagement in learning activities."
For St. Richard's, a 21st Century Learning Community emphasizes the importance of adapting to current socioeconomic trends, especially digital literacy and a decreasing dependence on paper.
St. Richard's success with Boogie Board eWriters has attracted the attention of educators throughout Alberta and Canada, many of whom have visited the school to witness firsthand the many benefits of using Boogie Board eWriters in the classroom. Following the visits, Edmonton Catholic School District purchased Boogie Board eWriters in volume to expand their use in schools throughout the district and capture even greater paper and cost savings. Other districts have also purchased Boogie Board eWriters for their own pilot programs.
"Schools across the globe are constantly tasked with finding and implementing the most cost-effective means of educating their students. Boogie Board eWriters are an excellent way to meet this objective, as their use by Edmonton Catholic Schools demonstrates," said Improv Electronics/Kent Displays CEO Dr. Albert Green. "Not only do Boogie Board eWriters dramatically reduce paper costs in schools, they increase environmental consciousness and are an affordable way to put new, exciting and fun technology in every student's hands. And any time you can get kids to be excited and have fun at school, it's a good thing."
Others to recognize the benefits of Boogie Board eWriters as a cost-effective educational tool include:

About Boogie Board eWriters
Improv Electronics introduced Boogie Board eWriters in January 2010 with the Boogie Board 8.5 eWriter as a paperless replacement for memo pads, sticky notes, scratch pads and other writing and drawing mediums. High global demand immediately followed. Eight colors were added in January 2011. In June 2011, several additional Boogie Board models and accessories were launched including the Boogie Board 10.5 eWriter, Boogie Board 8.5 eWriter for Binders, and the Boogie Board Message Center. At the same time, a custom design of the original Boogie Board 8.5 eWriter available exclusively through Brookstone was introduced.
The Boogie Board Rip eWriter's ability to record and save notes/images makes it the ideal paperless replacement for paper notebooks, legal pads, and sketch books. It includes the following features:

Internal memory for 200 typical images
High resolution, vector PDF format (nearly infinite scalability; editable in Adobe® Illustrator®/Photoshop® and most other popular illustration and image editing programs)
9.5" writing surface (measured diagonally)
Micro USB port
Thin, durable and lightweight construction
Integrated stylus holder (stylus included)
Erase lock button
Rechargeable batteries with one week between charges under typical use
About Improv Electronics
Improv Electronics was formed in 2010 as the consumer products subsidiary of Kent Displays. Founded in 1993, Kent Displays, Inc. is a world leader in the research, development and manufacture of Reflex No Power LCDs for unique, sustainable applications including electronic skins, eWriters, smartcards and eReaders.
For more information on the Boogie Board eWriter school pilot program and educational uses, visit the Improv Electronics education web page or email sales(at)kentdisplays(dot)com
.
Boogie Board, Boogie Board Rip, Reflex and Improv are trademarks of Kent Displays, Inc.
Adobe, Illustrator and Photoshop are trademarks of Adobe Systems Incorporated.