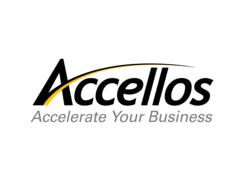 "The 2.6 release . . . will allow our customers to raise the bar on their competitors by delivering rich, actionable information to their extended enterprise." Ross Elliott, Accellos' Chief Technology Officer
Colorado Springs, CO (PRWEB) May 09, 2012
Accellos, a leading provider of supply chain execution software solutions, today announced the latest version of AccellosOne Workspace, its composite application framework that provides the foundation for its current and future products.
"The mid-market user continues to ask for the same thing: (1) make my software simple and easy to use; (2) allow me to provide access to anyone I choose internally or externally; and (3) minimize my requirements for extensive IT resources to manage my systems. Our Workspace framework answers all three requirements with industry-leading Microsoft technology," said Chad Collins, Accellos' Chief Marketing Officer.
New capabilities available in Workspace Version 2.6 include:

Embedded Video Training Center
Unlimited user-definable field extensions
Externally facing portal enhancements
Integrated report management and distribution
Enhanced software development kit
Enhanced performance
Virtual appliance support
"We built Workspace to be an immersive experience for our users. It is designed to look and act like a Microsoft Office application – only available through your browser. The 2.6 release is intended to extend the capabilities beyond our customer's four walls. We anticipate that it will allow our customers to raise the bar on their competitors by delivering rich, actionable information to their extended enterprise," said Ross Elliott, Accellos' Chief Technology Officer.
About Accellos
Accellos is a global provider of software solutions specifically designed for the unique needs of logistics service providers and small and midsized businesses (SMB). Over 3,000 companies trust Accellos to be the technology backbone of their global supply chains. Accellos provides solutions for warehouse management systems (WMS), third party logistics (3PL), fleet management, transportation management systems (TMS), trading partner integration (EDI), automated barcode data collection, parcel shipping, transportation optimization and supply chain business intelligence. Accellos solutions are built on the AccellosOne platform, a modern technology platform featuring a user-friendly interface and simplified technical administration. For more information, email info(at)accellos(dot)com or visit http://www.accellos.com.
All products are either registered trademarks or trademarks of their respective companies in the United States and/or other countries.
Media Contact:
Chris Johnson
Marketing Communications Coordinator, Accellos, Inc.
T: 800-776-6706 x7332
chris(dot)johnson(at)accellos(dot)com
# # #