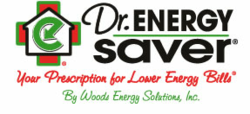 Collinsville, IL (PRWEB) May 10, 2012
Brian Stewart, General Manager of Dr. Energy Saver® St. Louis has presented an energy forecast to home improvement contractors at the April 17th meeting of the Greater St. Louis chapter of the National Association of the Remodeling Industry (NARI). Stewart cited the exponential growth of industrialization across the globe and a depleting energy supply as reasons for homeowners and businesses to reduce their need for energy.
Making his case, Stewart asked the critical questions of the day: "How much energy use can I reduce in my home?" and "How will home energy reduction impact my family's quality of life and the value of my investment when prices skyrocket?" He explained that when considering the law of supply and demand as well as the reality of inflation, homeowners and businesses are faced with an imminent choice: either reduce reliance on energy sources or pay outrageous utility bills.
Cost-effective energy solutions are hallmark of Dr. Energy Saver St. Louis. They perform home energy evaluations to illustrate where energy is being used, lost, and wasted; then they do the work to minimize energy consumption and maximize the customer's investment.
The National Association of the Remodeling Industry seeks to advance and promote the remodeling industry's professionalism, product and vital public purpose. Regional chapters are nationwide.
As part of a national network, Dr. Energy Saver St. Louis is a highly trained and certified energy solutions expert. They offer air sealing, attic and crawl space insulation, ductwork, central air conditioning in St. Louis, MO and more! Their service area covers Greater St. Louis and surrounding towns including Ballwin, Florissant, and Troy.