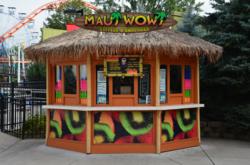 The wonderful family atmosphere at Cedar Fair Parks and Maui Wowi are an excellent fit. We offer a nutritious, fun product that is paying off for all parties; from the consumers to the owners."-Mary Bigler
Greenwood Village, Colo. (PRWEB) May 09, 2012
Maui Wowi Hawaiian has expanded its total number of locations throughout Cedar Fair Amusement Parks to 13 units in six parks nationwide. This summer, the all-natural, fresh fruit smoothie and gourmet Hawaiian coffee company will be available at Valley Fair, Dorney Park, Worlds of Fun, Geauga Lake, Michigan Adventure, and Knott's Berry Farm.
Maui Wowi's partnership with Cedar Fair is in its second year and has become a strong relationship that continues to grow opportunities for both parties. Maui Wowi Franchise Operator in Minnesota, Mary Bigler, will have three units in the Valley Fair Park. She played a pivotal role in building the relationship with Cedar Fair and says she is excited for the upcoming season. "Cedar Fair is a great partner and local Maui Wowi franchisees all across the country are helping us build a great relationship with the individual parks," said Bigler.
Bigler's three units consist of one fixed building that resembles a tiki hut and the other two are colorful mobile carts. The laidback Hawaiian atmosphere and umbrella topped smoothies give park visitors a taste of the Islands that Bigler believes will keep them coming back for more. "As more people begin to experience Maui Wowi, we will continue increasing our loyal fan base," said Bigler. "The wonderful family atmosphere at Cedar Fair Parks and Maui Wowi are an excellent fit. We offer a nutritious, fun product that is paying off for all parties; from the consumers to the owners."
The Cedar Fair parks are a great opportunity for the company to offer their popular coffee and smoothie line, just in time for summer. Children, teens, and adults alike, will get to experience the thrills of the rides and then cool off with a made-to-order, all-natural beverage. Maui Wowi, who is celebrating 30 years, also specializes in serving gourmet Hawaiian coffee and espresso drinks. They can be found at fixed retail locations, kiosks, events, and now at Cedar Fair Amusement Parks.
Valley Fair will be open on Saturday, May 12, 2012. For information on the openings of a Cedar Fair Park in your area, please visit http://www.cedarfair.com.
About Maui Wowi Hawaiian Coffees & Smoothies:
Before the days of big Hawaiian resort hotels and fiberglass surfboards, surfers spent long, lazy days partaking in the tasty waves of the North Shore beaches. As the legends of the surfers grew, many were drawn to the healthy, carefree lifestyle of Hawaii. Since 1982, Maui Wowi Hawaiian has been spreading the 'Aloha Spirit' across the world with its premium Hawaiian coffees, all-natural fresh fruit smoothies and authentic Hawaiian products. From event carts, mall kiosks and stand-alone retail locations, Maui Wowi Hawaiian operates 605 units worldwide. If you are interested in having Maui Wowi Hawaiian participate in a fundraising event for your community, please contact us at http://www.mauiwowi.com/content/no-work-fundraiser, or 1-877-849-6992. For more information about Maui Wowi Hawaiian's flexible, low cost franchising opportunities, visit http://www.mauiwowifranchise.com.