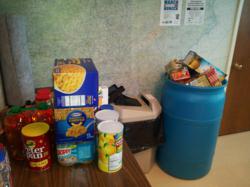 Indianapolis, IN (PRWEB) May 10, 2012
WKW recently participated in The Indiana Attorney General's March Against Hunger competition. The March Against Hunger is a competition among law firms, law groups and law schools to raise much-needed resources for regional food banks. Participants who collected the greatest amount of food and money during the month of March won the Attorney General's Cup.
A total of 51 law groups participated this year and raised more than 11,229 pounds of food and $51,172, for a total of 133.5 tons of assistance for our regional food banks! It was a record year with the largest collection of assistance in the history of the March Against Hunger.
During the month of March, our firm collected 436 pounds of food! The U.S. Department of Agriculture estimates that the average person in the United States eats 4.7 pounds of food per day. Using 4.7 pounds of food per day, our donation will feed one person for almost 93 days! We would like to congratulate the winners of the Attorney General's Cup and applaud everyone's effort!
Large Division
Barnes & Thornburg LLP: 946 pounds of food + $16,158
Medium Divison
Burke Costanza & Carberry, LLP: 758 pounds of food + $4,075.64
Small Division
Delk McNally LLP: 0 pounds of food + $800
Sole Proprietor
Steven Douglas Law Office 2,590 pounds of food + $1,444
Public/Non-Profit
Vanderburgh County Prosecutor's Office: 1,211 pounds of food + $2,025
If you are interested in making a donation to Gleaners Food Bank of Indiana please call Laura Bayless at (800) 944-3189 ext. 127.
Learn more about Gleaners Food Bank by visiting their website at http://www.gleaners.org.